Bristol Cocktail Week will take over the city between 17 – 23 October, and we cannot wait to kick back with our favourite concoctions
Taking place across 20 bars and 11 events, Bristol Cocktail Week offers the chance to sample the classic, innovative and insane creations of the city's best mixologists, as well as discovering the secrets to creating your own. Blend your own whiskey, find the hidden rum on a mini golf course, learn about the history of American gin through jazz, raise the roof at the closing party…it's going to be a week to remember (or not).
To help get us in the spirit, we've got our hands on two recipes from Amoeba and The Somerset House – try them out to your heart's content, but don't blame us the morning after…
The Spirit of Utah
High West Campfire is a smokey whiskey from the mountains of Utah. The name pays homage Lindbergh's first jet plane to fly trans Atlantic "The Spirit Of St Louis". Charlie Thomas of Amoeba has paired this great whiskey with subtle sweetness of honey and the herbs from yellow chartreuse to make an exceptional cocktail to sip on a cold October evening.
Available at Amoeba during Bristol Cocktail Week in 'The Mile High Club' zone.
50ml High West Campfire
14ml honey syrup
7.5ml yellow chartreuse
2 drops plum bitters
Stir ingredients over ice and strain in to a large whiskey tumbler over block ice garnish with dried orange wheels.
Concordia
Concordia is a play on words, celebrating Bristol with a nod to concord, and a good slug of sherry to represent Bristol's history as a great sherry importer. Concordia is a city in Mexico where this drink gets the rest of its influence from, Blanco Tequila pairs perfectly with the dry sherry and refreshing tonic. The sage leaf garnish gives a big herbaceous hit that brings out the green notes in this young tequila.
Available at The Somerset House during Bristol Cocktail Week in 'The Mile High Club' zone.
25ml of Herradura Blanco Tequila
25ml of Fino Sherry
15ml of lemon juice
Top with tonic
Garnish with a slice of lemon and a sage leaf
Build ingredients over lots of ice in a highball glass.
Bristol Cocktail Week
Now we've got your interest, Bristol Cocktail Week will run from 17 – 23 October. With 20 stops to choose from, the theme park-esque map featuring each bar and all of the events will keep you on track; we love Gareth Aldridge's amazing design reflecting each 'zone' – 'BS1 A Space Odyssey' and 'The Severn Seas' might be our favourites.
You can download the map via the Bristol Cocktail Week website.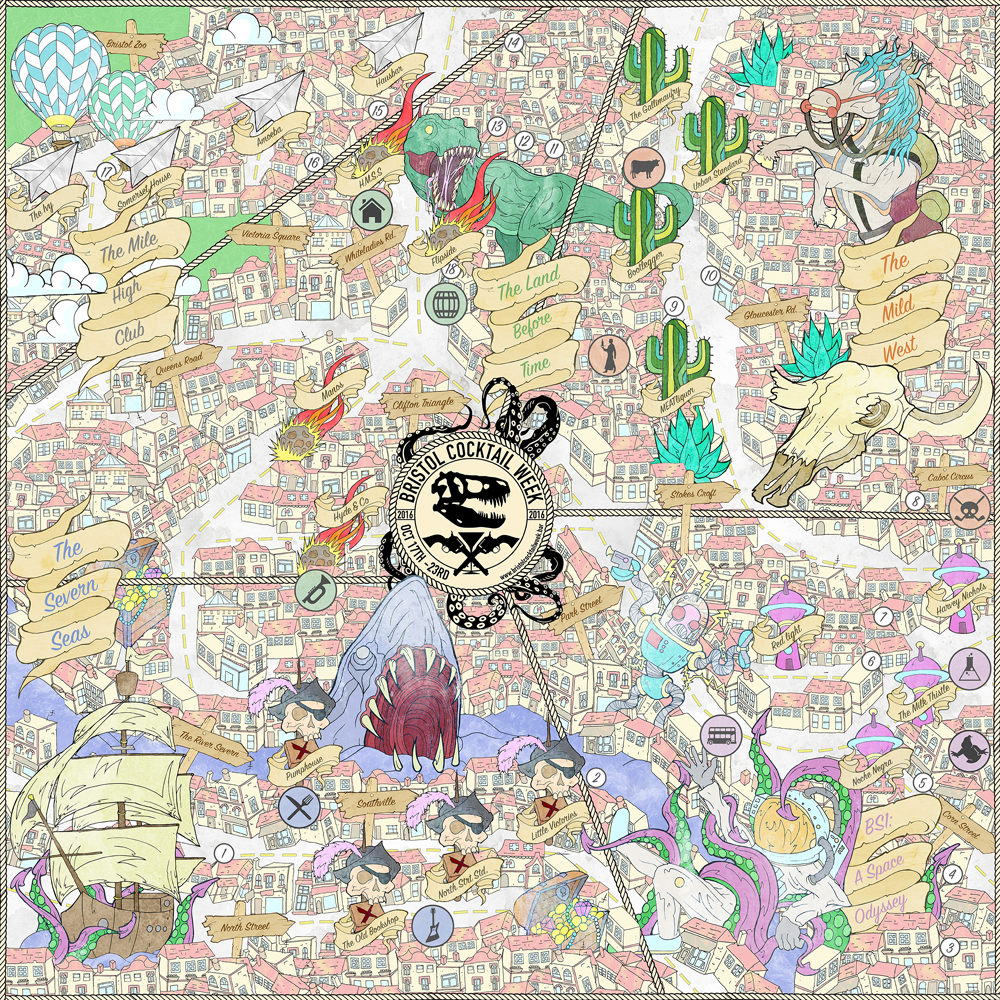 To find out more about Bristol Cocktail Week or to book tickets, visit the website
Bristol Cocktail Week: 17th – 23rd October 2016