As Bristol Old Vic prepares to welcome Treasure Island back to its stage this month, we sit down with the theatre's Heritage Participation Producer, Harriet Wilson, who takes us back through the archives and explains why Bristol audiences have always favoured maritime fiction…
As the smoke clears and the dust settles, Bristol Old Vic not only seems to have successfully weathered the Covid storm but is standing taller than ever. As it looks forward to welcoming its new artistic director, Nancy Medina, in Spring 2023 – the first woman to be appointed to the prestigious role – a new day is certainly dawning at the theatre.
With a real sense of anticipation filling the auditorium, Bristol Old Vic is preparing to welcome back this month a beloved Bristolian tale – a production that always seems to arrive at times of great change, inadvertently marking a new beginning.
Performed with a cast of four in their own inimitable style, the multi-award-winning physical comedy company, Le Navet Bete, will bring Robert Louis Stevenson's legendary Treasure Island to Bristol audiences from 19–30 July. Laced with a whole host of contemporary comedic twists, including an unusual motley crew of pirates, a parrot called Alexa (straight from the Amazon), and a certain white bearded fish finger tycoon, it's set to be a Treasure Island that's never been seen before.
When they established the Bristol Old Vic Company, Treasure Island was part of the company's first season… Not only did it show that Bristol Old Vic was back, but it illustrated that the theatre will always put stories about Bristol and the South West first
Intrigued by the timing of the production, we sit down with Heritage Participation Producer, Harriet Wilson, to look back through the history of the oldest continuously-working theatre in the English speaking world; delve into the newly-digitised archives of previous productions; and discover why Bristol audiences have always had a taste for nautical tales.
"Treasure Island has always been associated with rebirth at the theatre," Harriet begins. "The most important production of Treasure Island was in the winter of 1946. This was a really important period for Bristol Old Vic. The theatre went bankrupt in 1943 and was sold off at auction for £10,500 to the owner of a metal company, who was going to turn it into a warehouse. However, in the wake of the public outcry that followed his decision, he agreed to hold it in a trust if the people of Bristol could raise enough money to save it.
"If this was a Hollywood story, I would tell you that the local people managed to do it, but unfortunately that wasn't the case. It's important to clarify that this was during the Bristol blitz, so tens of thousands of people didn't even have homes. You can understand why they couldn't raise the money.
"Instead, the precursor to the Arts Council, the wartime Council for the Encouragement of Music and the Arts (CEMA) agreed to save the theatre. They established an offshoot of the London Old Vic company – the company led by Sir Lawrence Olivier, which went on to become the first National Theatre Company.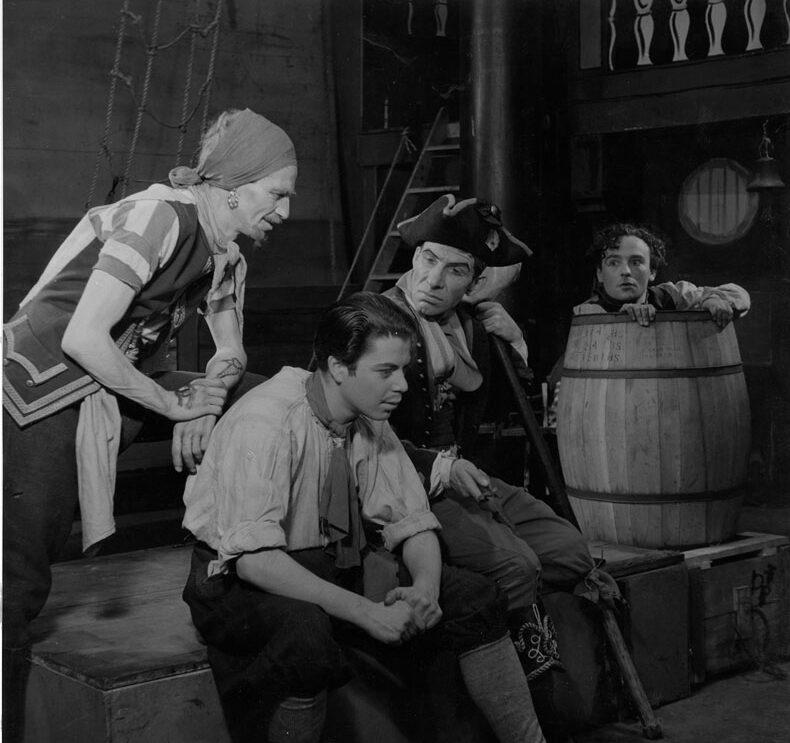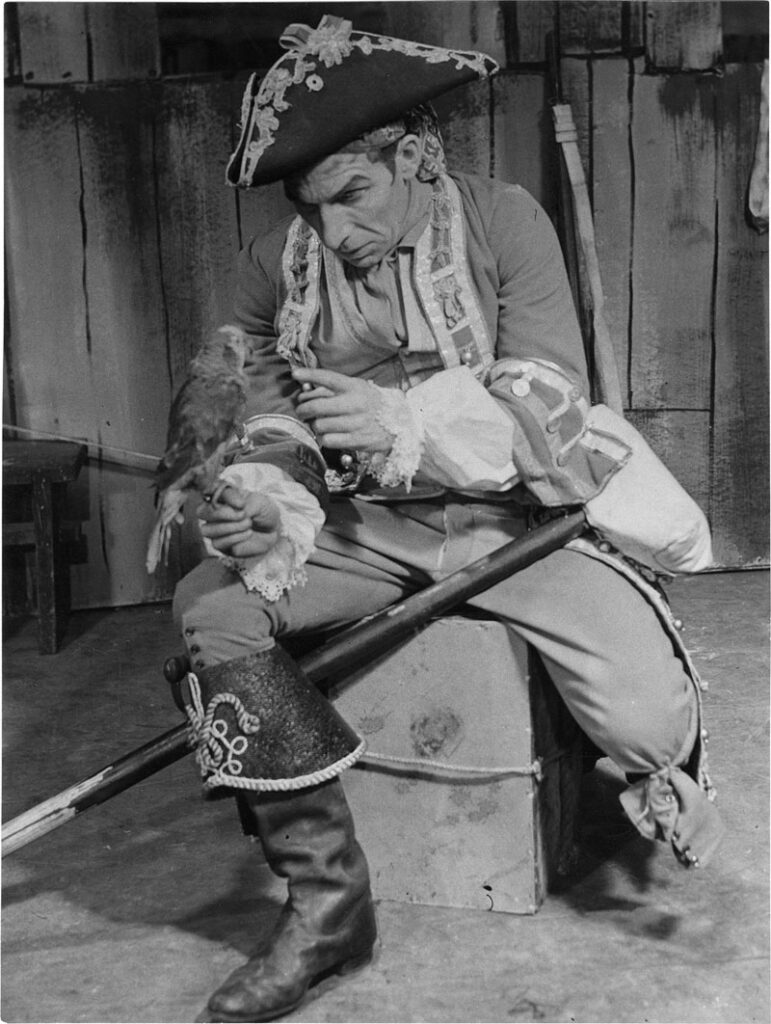 "When they established the Bristol Old Vic Company, Treasure Island was part of the company's first season. It was really the show that kicked off the era. Not only did it show that Bristol Old Vic was back, but it illustrated that the theatre will always put stories about Bristol and the South West first."
In 2016, Bristol Old Vic received a grant from the National Lottery Heritage Fund, which allowed the theatre to work closely with Bristol Archives, the University of Bristol Theatre Collection and an assortment of historians, designers and creative talent to shine a light on 250 years of remarkable storytelling. What's more, the heritage fund provided an opportunity to digitise the most complete archive of any 18th, 19th or 20th century theatre in England. In doing so, fascinating discoveries were made.
"We now have a beautiful set design from 1946 digitised, which shows that audiences coming into the theatre would have been greeted by a backing cloth that showed King Street," Harriet explains. "They could see the Llandoger Trow, they could see the Old Duke, they could see the theatre with the ships in the background. We know this is a real hallmark of Bristol Old Vic productions right back to 1766. We can see from our archives that Bristol audiences liked seeing Bristol reproduced on stage.
"In the 19th century, you wouldn't go to the theatre to see one thing, you would go to several shows almost like a variety show – a comedy, a drama and maybe a musical act. Our first female manager, Sarah M'Cready, who is also our theatre ghost and haunts the theatre to this day, would go down to the Welshback and persuade the drunken sailors to perform a hornpipe or a sea shanty in return for beer. We know our audiences really wanted a nautical flavour. They were really interested in authenticity.
"We also know that some of our earliest technicians worked as sailors. They might have gone to sea in the summer and come to work for the theatre in the winter. The productions needed people who could stitch canvas back drops, who knew how to rig, work hoists and were comfortable climbing ropes.
"The sailors are also the reason why it's bad luck to whistle backstage to this day. The way sailors used to communicate on ships was by using different whistles for different hoists. They brought that into the theatre and it was a really effective way of communicating when you couldn't shout backstage. Although today we use radios, there is still that superstition that, if you ever whistled backstage, someone might drop a metal bar on your head.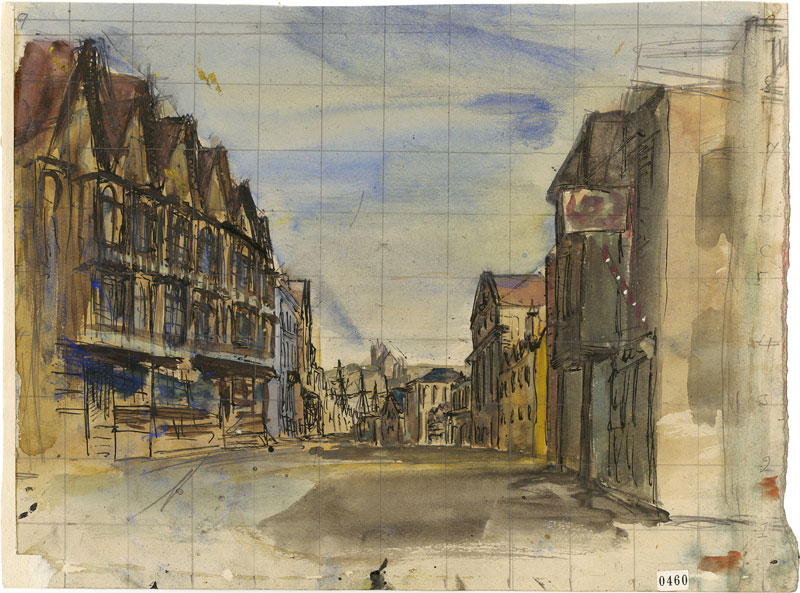 "We also have an amazing bit of graffiti backstage. It's the side of a ship and the artist has signed it E J Harwell. Using our archives, we found that this member of the Harwell family, who were carpenters and sailors, celebrated their maritime heritage by drawing a little ship, which you can still see today."
Interestingly, the last time Treasure Island came to the Bristol Old Vic was in 2012 – a year which saw the theatre closed for major works. "It was during a big point of change for us," Harriet explains. "Tom Morris had only just started; he was only three years into his time as artistic director. We built a temporary stage on King Street and we performed Treasure Island outside the theatre. It felt like, in 1946, we brought the street into the theatre and, in 2012, we took the theatre out onto the street.
"This summer is another big transition for us. We feel like we're firmly back on our feet after the pandemic, we've got our new artistic director starting in the spring, we are so excited for this new beginning."
As Harriet impressively recalls the highs and lows of Bristol Old Vic, one thing is abundantly clear – the theatre has always worked hard to entertain, to provide an escape for the people of Bristol. "We were founded on this site in 1766 and since that day we've been open on King Street and been a part of Bristol. We've had times where we were at the centre of Bristol's bustling life – everyone from the Duke of York to domestic servants would come every evening – and periods where the theatre went into decline and almost went bankrupt, but we've always soldiered on through.
"We are so proud that we have survived for so long. We're a cutting edge theatre, we're a source of inspiration, we want to generate new work for the South West, we're not a relic, we're very much alive. Our heritage inspires everything we do and it's really nice to have things like Treasure Island to really look back on our history and see the similarities between then and now."
Treasure Island is showing at Bristol Old Vic from Tuesday 19 July – Saturday 30 July. For more information and to book tickets, visit: bristololdvic.org.uk.
If you're interested in learning more about the people, performers and players who have walked the boards through Bristol Old Vic's two-and-a-half-century tenure, head along to The People's Tour, led by expert guides. The perfect morning for anyone with an interest in 18th–21st century theatre and the people behind the theatre's rich history. Visit the website for more details.
Did you know?
Alexander Selkirk was a Scottish sailor who spent four years marooned on a desert island in the South Pacific Ocean as a castaway (1704–1709). He was eventually rescued by English privateer Woodes Rogers, who lived on Queen Square. When Selkirk came back to Bristol, he immediately set up shop in the Llandoger Trow [a pub situated directly opposite Bristol Old Vic] and would often tell people his story in return for a beer and a plate of food. One of those was writer Daniel Defoe, who was inspired by Selkirk's story when writing his fictional novel, Robinson Crusoe.

"The Llandoger Trow also inspired the Admiral Benbow Inn in Treasure Island. It is filled with so much history. It is meant to be the most haunted building in Bristol. I love the idea of all of these pirates knowing it," says Harriet.