As Sir Matthew Bourne's ever-exuberant Nutcracker! celebrates its 30th anniversary and returns to the stage for the first time in 10 years, Melissa Blease chats to the "undisputed king of dance theatre" ahead of its launch at The Bristol Hippodrome next month,
This year: so far, it's all been a bit depressing, hasn't it? But away from the doom and gloom, a collection of attention-grabbing headlines on a distinctly optimistic theme dominates certain sections of the broadsheets. The reviews are in on highly-acclaimed British choreographer Sir Matthew Bourne's reinvented Nutcracker!, which is landing at The Bristol Hippodrome at the start of next month, revisited and refreshed for its first outing in 10 years to celebrate the original production's 30th anniversary.
If you're looking for uplifting escapism, this show, it seems, is it: "lavish, scrumptious, sumptuous", "sensual, kitsch, plush", "whimsical, exquisite, thrilling," read the reviews. The critics – let alone the audiences, who anticipate Bourne's shows with bated breath – adore him, showering him with swooning accolades such as "the undisputed king of dance theatre", "the ultimate showman" and "the premier iconoclast of English dance".
"But when people talk about Matthew Bourne in that way, it's my shows that they like, not me personally, or me as a personality!" says the man himself, about himself. "And that's what's lovely, to me; what I do is definitely not all about me."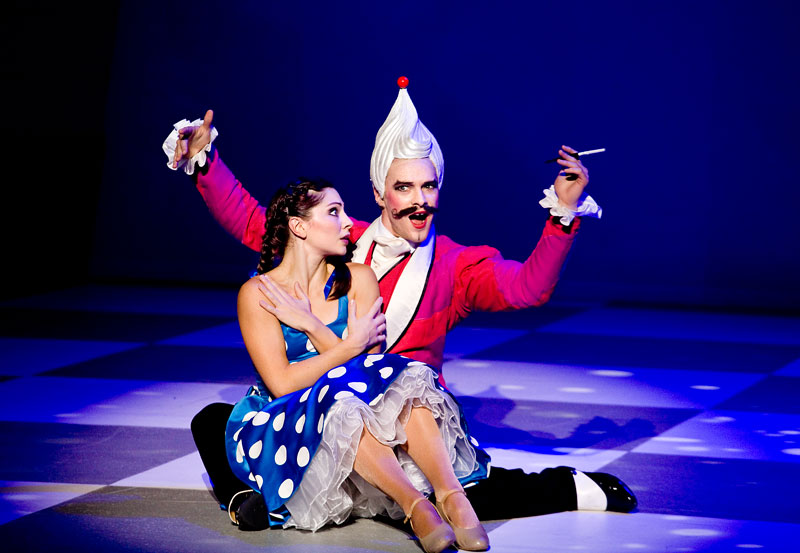 You can deflect all you like, Matthew – but without you, there'd be nothing to say about what you do, would there? And we've been offered the opportunity to say a lot about you for a very long time.
Matthew Bourne's ground-breaking, multiple award-winning British dance-theatre company, New Adventures, was established in 1987. The company is renowned for telling stories with a unique theatrical twist and, since its inception, has become globally renowned for its smart, highly imaginative reinventions of classic productions including The Red Shoes, Cinderella and Sleeping Beauty and fascinating retakes on contemporary tales such as Lord of the Flies, Edward Scissorhands and Dorian Gray. Bourne's 2020 Olivier Award (Best Theatre Choreographer for Mary Poppins, which he shared with co-choreographer Stephen Mear) made him the individual with the most Olivier wins in the history of the awards; meanwhile, back in 2016, he was knighted in the Queen's New Year Honours in recognition of Outstanding Services to the Art of Ballet.
"Okay, I can't be overly modest about that!" he says; "That was great, I loved it, it was just fantastic. It hasn't made a real change to my life in a literal way, but it offered me a wonderful opportunity to be more of a spokesperson for my profession, and that's where recognition like that becomes important. But on a personal note, I grew up loving that honours list, waiting to see who'd got the CBEs, the OBEs; it felt so fabulous, and glamorous, and very special. Now, having been there and shared that experience with a lot of people, I support the honours list even more. The names we mostly hear about are the famous ones, or the ones you feel may not deserve it – politicians, and all that. But the vast majority of the people on that list are special people, doing amazing work in their communities, and being recognised for it; it's like our country saying thank you to them. And it's such a wonderful day out!"
I'm very happy that Nutcracker! is back to give people so much joy at the moment, when we really need it the most
And wonder is something that Matthew specialises in. "I've been doing this for a very long time now," he says (still slightly, I'm feeling, keen to take the spotlight off him and onto his company). "I suppose our original Swan Lake [a dark but shimmeringly beautiful contortion of Tchaikovsky's classic ballet, featuring a repressed, depressed prince deprived of love by his mother and an overtly macho, all-male cast of swans, which premiered in 1995] is always going to be a highlight of the past three decades. It took dance to places dance wouldn't normally go, and took us abroad for the first time, and into the West End. It was such an unusual, unexpected thing to have happened; we were – and still are – quite a small company, and Swan Lake was originally just another small project. But it ended up creating a loyal audience for dance on a much bigger level, and perhaps encouraged other companies to think outside the box a little bit bit more too? It was a life-changing experience for everybody involved in it, and for dance in general."
Right now, New Adventures is back on Tchaikovsky territory again with Nutcracker!. The sweetest of all of the company's Christmas treats (which Matthew goes to great pains to point out it is most definitely not just for Christmas) has been given a thoroughly modern makeover, influenced by the lavish Hollywood musicals of the 1930s with theatre designer Anthony Ward's newly-refreshed, delectable sets and costumes and Bourne's dazzling choreography, creating a fresh, charmingly irreverent interpretation of the classic.
"Nutcracker! seems like the perfect piece to bring back at the perfect time," says Matthew. "It's joyous, warm, funny and engaging. It totally crosses the divide between the stage and the audience, properly welcoming people back to live theatre with that interaction and really connecting with people of all ages. We've taken the familiar Nutcracker! story and elevated it by several notches with the costumes, and all the brand new sets. It really is spectacular, and this time around we've used a lot of new technology as well: projections, and lots of special effects. There's an amazing Busby Berkeley-style cake that appears to melt before your very eyes and at one point, the walls of the orphanage start to shake. We've done some lovely new things that we've never been able to do before and taken the opportunity to highlight what theatre can do now as opposed to what it could do 30 years ago, when we first toured the show, has been really worthwhile – it's been like doing a whole new show, actually!"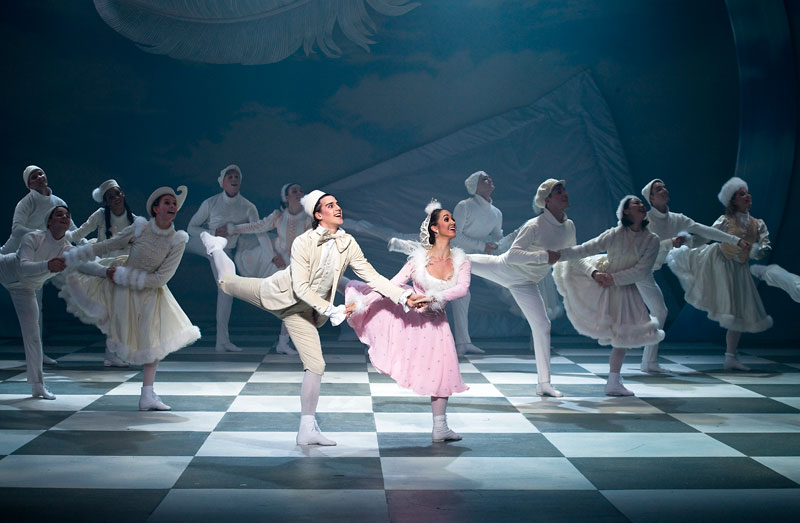 It's interesting to note at this point that Nutcracker! sounds like the the polar opposite to The Midnight Bell, New Adventures' most recent (and brand new) show focusing on the forlorn flirtations, unfulfilled desires and thwarted passions within a group of people who all frequented the same pub circa the late 1930s.
"Nutcracker! and The Midnight Bell? Chalk and cheese!" laughs Matthew. "Our original Nutcracker! was one of my earliest, most successful shows – a crazy, bonkers, fun-packed piece. The Midnight Bell is a much darker story about human relationships. The two shows, 30 years apart, almost act as a reflection of the journey I've been on, and they really are dramatically different. But I'm so thrilled that they're both out there at similar times, offering that contrast. They're both equally valid in what they can achieve with different audiences, but I'm very happy that Nutcracker! is back to give people so much joy at the moment, when we really need it the most."
Matthew and his company have been bringing joy to audiences for just over 35 years now. Is Sir Bourne able, I wonder, to choose a favourite show?
"That's virtually impossible, I'm afraid!" he says. "I tend to always totally love the shows I'm doing at any given time, and then I love them all over again when they come back because I loved them so much in the first place. I certainly wouldn't bring any show back if I had even the merest hint of feeling oh no, here we go again; it's always, always an excitement, and there has to be excitement around any project in order to do it well – if you don't feel excited about it, nobody else will. All my shows have been true passion projects, for me – and if I feel it, I know other people will too."
Matthew Bourne's Nutcracker!: prepare to get passionate…and fall in love.
Nutcracker! is playing at the Bristol Hippodrome from 1 to 5 February. Tickets are available to buy online from atgtickets.com
Featured image: photograph by Simon Annand