Bristol's musical, cultural cornerstone finally reopens this month, kicking off party season with an almighty shindig and much more. On a hunt for the venue's new highlight features and focal points, we had a nose around ahead of opening night. Words By Amanda Nicholls.
30th November; put a ring around it.
It's on this date – arguably the biggest on the city's arts calendar this year – that the long-awaited, future-ready Bristol Beacon will be unveiled.

When the Beacon closed its doors five years ago, Bristol – and the world beyond – was a different place and, touring the new space, revamped from top to bottom, it's clear that a thorough re-evaluation has been undertaken in terms of the venue's history, purpose and onward trajectory. The aim of the transformed Beacon, in conjunction with its recent renaming, is to "create unity and joy through live music" and help achieve a greener, fairer, more equal society. Acknowledging and openly discussing past associations, it's moving forward into the light – quite literally. Windows that have been boarded up for 60 years have been cracked open once more; gorgeously glazed skylights have been restored.

The 1867 concert hall's multimillion-pound, once-in-a-generation remodelling has made for a gargantuan task, with one million hours of work going into the build. The Bristol Byzantine frontage has been reconditioned, revealing details concealed since the Fifties, and Victorian magnificence has been brought back to the historic core with an elegant spiral staircase, airy new bar and restaurant, striking artwork and a story wall depicting the vivid history of the place. And that's not the half of it.
There's a lot to explore while navigating Bristol's world-class new music hub on your first visit – here are the headlines…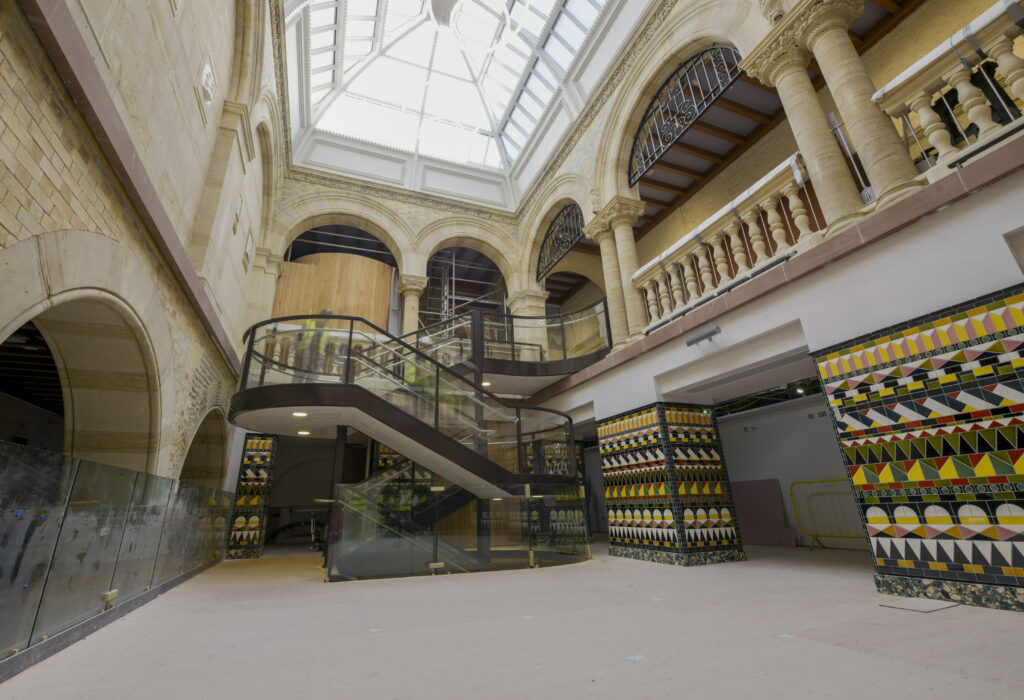 Electro-orchestral alchemy: tripping the light fantastic
Under the artistic direction of award-winning conductor Charles Hazlewood, fourth-wall shattering Bristol favourites Paraorchestra will be joined by ambient/techno and analogue fan Surgeons Girl in performing an ambitious, bespoke piece of music commissioned for opening night. Part-inspired by the poet John Milton, Trip The Light Fantastic symbolises free speech and a Beacon reborn. Expect loud, powerful, intricate, uplifting, euphoric, surprising stuff – "the sublime interface between the world of techno and the best of an orchestra" – and performers milling about, disrupting the orchestral norm, plus Limbic Cinema's 360-degree immersive light show, using signals generated by Surgeons Girl's hardware. "Bristol has been missing its beating heart," says Charles Hazlewood, "and now, at long last, the heart is being put back into the body and fired up. This place is something else."

Hell of a housewarming
Free day-to-night festivities are in store on 2 December, when a vibrant cross-section of Bristol's creative scene – over 60 acts ranging from grassroots groups to well-known faces – will be staging a takeover. Whether you fancy dancing in the Lantern with local alternative legends; five foyer floors filled with family fun; or making your descent to the cellars for a youth showcase plus emerging grime, rap, pop and R&B artists, every taste will be catered for.

World-class acoustics and a tuneable room
The Beacon will bring two international-standard performance spaces to the table, with 21st-century movable stage technology making for Europe's most flexible, accessible performance spaces. Now accommodating up to 2,196 people, main auditorium Beacon Hall has a new seating arrangement with improved sizing, comfort, leg room, full wheelchair access and bespoke fabric designed by artist Rana Begum with local fabric specialists Dash & Miller. Having two balconies instead of one will also make for better audience sightlines and unrivalled acoustics. Top acoustician Bob Essert led a team of specialist engineers working in granular detail on porous bricks that simultaneously absorb and reflect sound, and acoustic drapes that can be adjusted depending on how much bass is desired – basically making the hall a tuneable room.

Illuminating stories lost in time
Up until the 1990s, the 156-year-old venue's history was told largely through a white, male journalistic perspective, but recently researchers have reinvestigated it through a new lens, undertaking thorough research on female artists of the past. Led by renowned creator and disability activist Cathy Mager, the Lantern Heritage Project shines a light on lost stories of everyday folk and lesser-known artists such as 1890s Black acrobat Carlos Trower, who walked above the audience on a tightrope while cooking a beef steak, and 1920s Black bisexual cabaret star Leslie Hutchinson who was alleged to have had affairs with Cole Porter and a member of the Royal Family.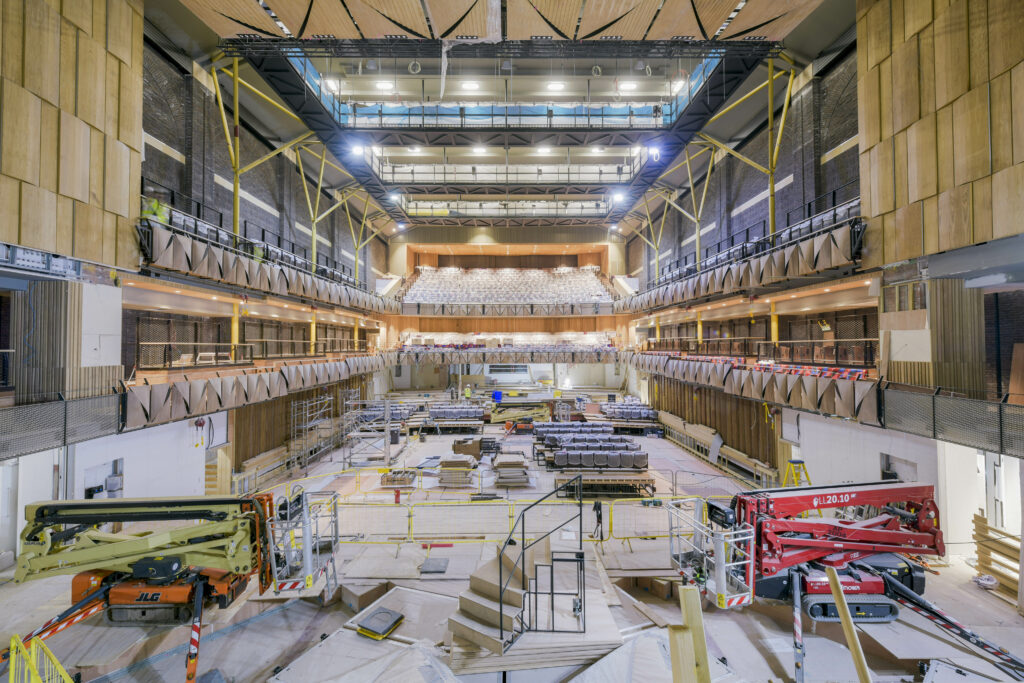 Let there be light (when appropriate)
The second auditorium, Lantern Hall, has a hydraulic stage for maximum performance flexibility; ornamental plasterwork restored by local artisans Hayles & Howe; and new windows letting in natural light as well as bespoke acoustic curtains to block it out and protect sound quality when needed. A raucous festival could be going on in there while a tranquil piano concert takes place next door, with zero sound transfer. Heritage project findings are revealed in a 12-metre frieze designed to give the impression of walls that sing with lost voices including the Beatles, the Rolling Stones, the Supremes, Jimi Hendrix, Stevie Wonder, David Bowie, Elton John and Tina Turner.

Byzantine beauty in the Colonnade Restaurant
The Colston Street frontage has been restored to prominence with columns and a glass front in the original entrance space, and masons have brought back the old Bristol Byzantine stonework to create a new and independently functioning all-day restaurant with 100 covers, accessible from the street. Look out for the 'crush room' ghost sign where ladies of the 1800s once gathered in their big frocks. With the second Festival of Britain-style rebuild in 1951 not of the best quality (materials were still scarce after the Second World War), this part of the build was beset by challenges, including the realisation that its architectural columns were hollow – they had to be reinforced, with concrete poured inside very slowly so that the columns wouldn't explode!

Going underground: The Cellars
The vast, previously inaccessible vaulted Victorian cellars now house a club-style space with a 4am licence for underground events, a bar, state-of-the-art recording studios and a sound engineering room for young people to learn, practice and record music. A separate entrance, featuring an abstract light work by neurodivergent artist Frankie Boyle, make this another area that can be used independently.

Simons' Bar: a stylish new place to be
It's likely that London Underground artist Giles Round's terrazzo tiling will catch your eye first in a light, bright new bar making the most of a skylit space designed in Italian palazzo style. Round creates sculptures and installations that employ geometric structures, monochromatic panels, lights and typographic schemes. Previous works can be seen in London's Hayward Gallery and Southbank Centre. Inspired by the extraordinary architecture of Bristol, the design references the polychromatic decoration used on the Beacon's façade. Bristol Beacon chief executive Louise Mitchell has been contributing to the cost of the building through payroll giving throughout the closure and named the bar in tribute to two men who have been instrumental to the project: current Beacon board chair Simon Chapman and Simon Cook MBE, who guided the foundation of Bristol Music Trust.

Turn the clock back and get creative – in the city's coolest cupboard
A redundant foyer cupboard has been turned into a 'sound lounge' styled like a vintage record store. A hub for the community to explore stories about famous acts that have played the Beacon, it's decked out with retro posters, a till from the old box office and an interactive lyric wall for people to compose songs on. The idea is an exchange of past tales and current community stories, so that the building continues to serve local people as it was intended.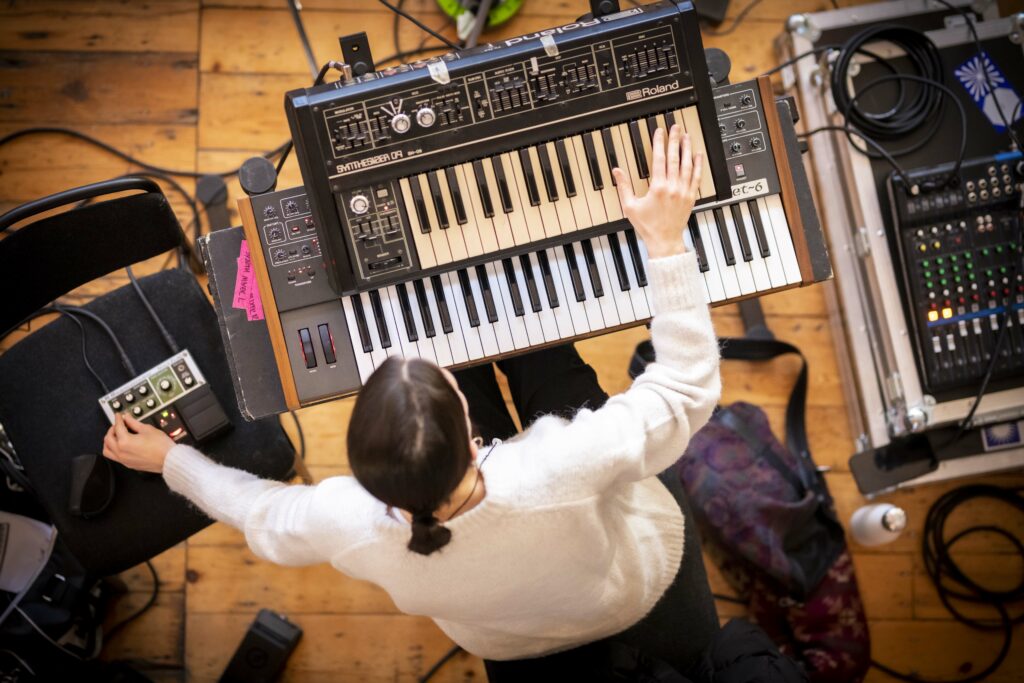 Accessibility, accessibility, accessibility
The 'get in' for touring shows and artists – once a source of embarrassment – has been overhauled with a new lift, backstage storage areas and step-free access from street level. Wheelchair users will no longer have to be ushered into the building round the back, making for a much more inclusive, positive, optimised experience: a core thread of the Beacon's modified DNA. Floor levels have been altered across the site; dedicated wheelchair spaces exceed the legislated number; bathroom facilities feature male, female, gender-neutral and accessible provisions. For visually impaired and hearing-impaired visitors, there's cutting-edge navigation technology and adjustable lighting plus electric doors, a new wayfinding scheme, and hearing systems with surtitles and audio description in addition to an audio guide (with a British Sign Language version) featuring the voices of local boxers, wrestlers and performers.

Art at the heart
Much is rightly made of Bristol's historical links with the transatlantic slave trade and, although previously called Colston Hall, the building was not built with Edward Colston's money and came about 150 years after his death. The public art programme does not shy away from Bristol's past – its brief inviting artists to consider a relationship to the city's generations of international trade. By commissioning artworks that embrace historical context in a contemporary and sustainable manner, Bristol Beacon is entering its new phase with its eyes wide open. Visual artist Linda Brothwell, based at Spike Island and interested in heritage and place-making, looked at key events and the history of the Beacon's architecture, plus the sounds and movements of people in and outside of the Lantern building, to create a contemporary response to the neoclassical façade; a large-scale work in bronze. British-Namibian artist Libita Sibungu, in residence at Bristol's Pervasive Media Studios and exploring the politics of the body and landscape in relation to migration, blackness and colonialism, has created an audio artwork examining the history of the building and city and the tension around its relationship to the harbour, thinking about maps and cartography within the context of hidden histories and memories of people of colour in the city.

Bristol Beacon – Did you know?
● The transformed venue will be the fifth new iteration on the site.
● While anti-slavery songs were being sung within the Beacon's walls as early as the 1800s, the venue also provided a platform for British Union of Fascists leader Oswald Mosley to speak in March 1934 (while 6,000 people protested outside): a fact that the venue openly recognises in the name of education.
● Far from being a new or 'woke' idea, the venue's 2020 name change to eradicate the perceived association with transatlantic slave trader Edward Colston was a topic of conversation from as far back as the 1890s. The research team found quotes relating to an anti-slavery meeting in the Lantern, in which country's inability to address slavery even after its abolition was called out.
● In May 1909, suffragettes Vera Holme and Elsie Howey hid in the grand pipe of the organ and interrupted a political speech by Augustine Birrell.
● In December 1933, the auditorium underwent a series of alterations to make the space suitable for a circus featuring elephants, seals, ponies, kangaroos and bears.
● You could once spot palm trees in the orchestra pit for the annual flower show.
● New research shows that the building has long served as a community hub, with free concerts for school children and a concert raising money for the children's hospital, plus a platform for gifted working-class musicians who could just come up to the door, audition and potentially find themselves the star of the show that evening.
● In World War II, the venue was turned into a gas mask distribution centre and became the broadcasting site for local BBC radio.

Visit: bristolbeacon.org