As production companies continue to use Bristol as the backdrop to their major titles, returning to the city's urban streets and green spaces time and time again, Simon Horsford explains why the city has become such a hive of activity and discovers what's set to be released in 2022…
Bristol deserves a BAFTA for the best place to make drama." It's some claim considering the range of options for filming in Britain, but the executive producer of the BBC's 2019 drama The Trial of Christine Keeler, Douglas Rae, has a point about a city that can provide an inspiringly diverse range of locations from its Georgian streets and buildings, historic harbour and backdrops such as Clifton Suspension Bridge and Avon Gorge, to the regenerated city docks and gritty urban landscapes. Its history, cultural diversity and creative spirit have also contributed to making it a go-to location.
Home to the BBC Natural History Unit, Aardman Animations and, from this year, to the Top Gear production team, the city has long had an established reputation for TV and film production. In 2017 Bristol was named UNESCO City of Film because of the strength of the moving picture culture and production opportunities. And at The Bottle Yard Studios in Hengrove, south Bristol, it has the largest production facility in the west of England.
As Laura Aviles, Senior Film Manager for The Bottle Yard Studios and the Bristol Film Office, says: "Producers return time and time again for good reason. We have Regency and Georgian architecture, large green spaces and modern urban settings. Bristol can easily double for London and other cities in both period and modern eras, or it can offer its own very strong cultural identity."
The proximity of Bath and its beautiful Regency locations also means that there have been numerous co-operations between the film offices of the two cities. The range of the productions in the city – and at Bottle Yard Studios – is extraordinary and evidence of its ability to offer a variety of locations. Bristol has been used for instance in Poldark (with sites including Redcliffe Caves, John Wesley's New Room and St Nicholas Market), The Salisbury Poisonings, about the attempted murder of Sergei and Yulia Skripal (Castle Park, which doubled for the park where the pair were discovered), Sanditon (The Georgian House), Wolf Hall (Bristol Cathedral – used as Westminster Abbey), Sherlock: The Abominable Bride (Cathedral Square, Tyntesfield and Arnos Vale Cemetery) and Three Girls, about the grooming scandal in Rochdale (with council offices on Temple Street doubling as Liverpool Crown Court) and Eastville Park. Most recently the city hosted the second series of Amazon Prime's teen spy drama Alex Rider, while going back a few years Bristol was used for BBC Three's terrific supernatural comedy drama Being Human and Channel 4's groundbreaking Skins.
Although Manhunt: The Night Stalker is set in suburban South London, we decided to move the majority of our shoot to Bristol… It proved to be an extremely good decision… moving between locations was far easier than it would have been in the capital
And it's not just drama either as the Bottle Yard Studios has also provided production facilities for the likes of Andy's Prehistoric/Aquatic (and) Safari Adventures (the CBeebies series featuring presenter Andy Day), The Crystal Maze and Art Ninja, the creative art-sitcom for kids presented by Ricky Martin.
It's in Bristol's favour that it is has been so open to co-operating with TV and film companies. "I think much of Bristol's popularity is down to the fact that the city has long understood the value of filming to the economy," says Aviles. "It has put in the hard work to make Bristol one of the UK's most film-friendly cities."
That certainly paid off when even after the lockdowns of 2020, annual figures released by Bristol Film Office in October confirmed a strong recovery for film and TV productions filmed at The Bottle Yard and/or on location in Bristol, which were worth an estimated £12.6 million in 2020/21 despite the three-month filming hiatus caused by the pandemic. In the first quarter of 2019/20 there were four major dramas working in the city; in the similar period in 2020/21 there were 13.
The strength of the region was also confirmed by Anna Mallett, vice president of physical production for Netflix in EMEA/UK, who said last year: "We've long known that the south west of England is a creative powerhouse. Its highly skilled and versatile workforce, sumptuous landscapes and state of the art facilities make it a natural home for Netflix productions, from agenda-setting natural history documentaries to the most talked-about drama. We're committed to the south west for the long term."
I wonder which production Aviles is most proud of – she picks last year's BBC hit The Outlaws. "So often Bristol doubles for other settings on screen; it's rarer that the city has the chance to star as itself, in all its vibrancy and colour. The Outlaws is as Bristolian as they come. The storyline celebrates things we love about the city without shying away from issues that those who live in (and love) Bristol will be familiar with. All with Oscar-winning Christopher Walken in the cast and topped off with an original Banksy rat!"
Who knows, maybe the next Bond film might come to Bristol? "Now that would be a coup! Perhaps it could film in one of the Bond warehouses on Cumberland Basin!," says Aviles. "Or I'm sure [the producers] could create some pretty jaw-dropping stunts involving Clifton Suspension Bridge."
What happens at The Bottle Yard Studios?
The largest TV and film studio in the west of England, Bottle Yard Studios boasts eight stages across a seven-acre site (three more are set to open this year). There is also a green screen studio, one of the largest outside London, and an extensive production office space (for costume, make-up etc., and workshops).The studios also have an onsite community of more than 25 companies providing specialist film and TV services from camera equipment, lighting and set construction to casting, special effects, props and post production.
Recent Bristol hits
The Outlaws (BBC One/Amazon Prime)
Stephen Merchant's wonderfully comic, culture clash, crime caper about a group of probationers was one of the best series on TV last year. With its seven wittily drawn lead characters, among them Christopher Walken and Eleanor Tomlinson, it has Bristol centre stage. And the good news is that it's going to be back for a second series this year.
Selected locations (from 25 plus): Bottle Yard Studios (for various interior scenes); disused Sea Mills Community Centre; Galleries shopping centre, Broadmead; George Inn, Shirehampton; Old Bank of England building, Wine Street.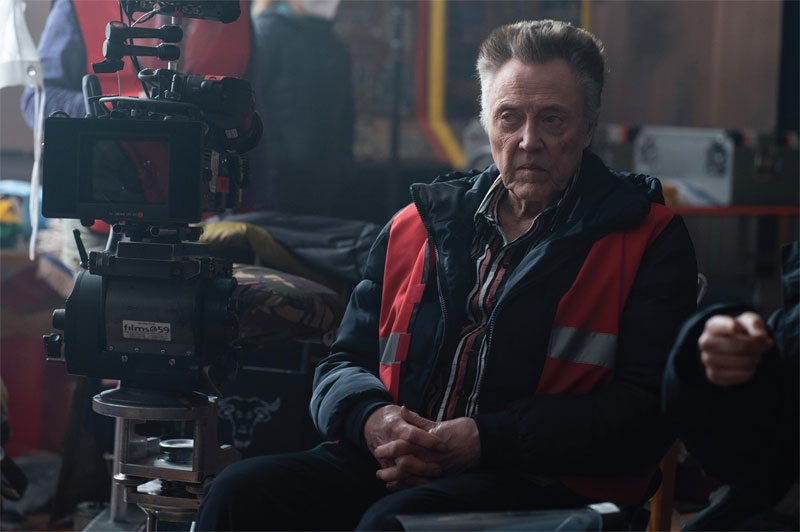 War of the Worlds (Disney Plus)
Not to be confused with the BBC's 2019 mini-series, this present day re-imagining of HG Wells' classic science fiction tale envisages an alien attack that all but wipes out humanity and stars Gabriel Byrne and Daisy Edgar-Jones. Season two (when Disney took the helm from Fox) was the first production to be filmed in Bristol following the first lockdown in 2020 and it picks up with the remaining humans beginning the fightback for the planet.
Selected locations (used as a double for London): Behind City Hall, the area around College Street and St George's Street and where a London Underground sign was used; while filming also took place around Queen Square, Armada House on Dove Street, Kingsdown and the Create Centre on Spike Island.
Showtrial (BBC One)
The shiny and twisty legal thriller about the disappearance/murder of a student at Bristol University featured a terrific young villainess in snooty fellow student Talitha Campbell (Céline Buckens) and was shot entirely in and around the city. The series touched on how prejudice, politics and the media can distort the legal process, was made by World Productions, the team behind Line of Duty and Vigil, who add vim to a rare female-focused murder trial series.
Selected locations: St George's Hall provided the courtroom scenes, while on St Thomas's Street in Redcliffe, a police station exterior was created near The Fleece pub. The student ball takes place at the University of Bristol's Ivy Gate area; and Bottle Yard Studios.
The Pursuit of Love (BBC One)
Lily James and Emily Beecham starred in Emily Mortimer's jolly adaptation of Nancy Mitford's witty novel, published in 1945, about love and friendship within a group of eccentric aristocrats. The three-part comedy drama – with a glam-rock soundtrack – was Mortimer's directorial debut and she also starred in the production.
Selected locations: The Bottle Yard Studios housed a number of period sets including: Cheyney Walk House; the country estate, Alconleigh; Merlinford, the neighbouring estate belonging to the wealthy and eccentric Lord Merlin; Beverly Hills Hotel and The Ritz. A period railway station was also created inside Green Park Station, Bath's former railway station. Other sites included: Dyrham Park, Stourhead House, Avon Valley Railway in Bitton and Lacock Abbey.
Manhunt: The Night Stalker (ITV)
The superior detective drama returned for a second series with Martin Clunes in top form as the methodical real-life DCI Colin Sutton. This time the drama tells of the painstaking search for a man who robbed and raped elderly women over a period of 17 years. Producer Jo Willett, said: "Although Manhunt: The Night Stalker is set in suburban South London, we decided to move the majority of our shoot to Bristol, with a few days at the end for some key London shots. It proved to be an extremely good decision… moving between locations was far easier than it would have been in the capital."
Selected locations: The old Bank of England building next to St Mary le Port Church on Bridge Street was transformed into a London police station, also a Bond warehouse on the Floating Harbour and the Lord Mayor's Reception Room in City Hall. Also Berkeley Square, Victoria Street, the railway arches on Stapleton Road and Knowle Cricket Club and Henleaze Junior School.
The Trial of Christine Keeler (BBC One)
Amanda Coe scripted this cracking all-female-made take on the Profumo Affair in which a 1960s teenage model finds herself in a love triangle with a British cabinet minister and a Soviet spy. The murky tale of sex and scandal starred Sophie Cookson as Keeler and Ellie Bamber as her friend Mandy Rice-Davies.
Selected locations: Bottle Yard Studios which also accommodated the interiors of Wimpole Mews (Stephen Ward's home) and Marylebone Police Station. More than 10 locations were used around the city, which recreate 1960s London, including Central Library (which doubled for Marylebone Police Station), offices above St Nicholas' Market (War Office and MI5), Wills Memorial Building (House of Commons) and St Paul's (Notting Hill).
The Girl Before (BBC One)
Adapted by British author JP Delaney from his 2016 global bestselling novel, this four-part psychological thriller follows Jane (Gugu Mbatha-Raw), who gets the chance to move into a beautiful house designed by an enigmatic architect (David Oyelowo). The catch is that she has to abide by a list of exacting rules and she soon makes an unnerving discovery about her predecessor (Jessica Plummer).
Selected locations: Interior sets of One Folgate Street, the drama's main location, were built at Bottle Yard Studios. An exterior façade was built at the end of Woodland Terrace off Hampton Road in Redland. Other locations included the Georgian surrounds of Queen Square, the Corn Exchange offices above St Nicholas's market, and the University of Bristol's Badock Hall and Stoke Bishop Estate.
Bristol productions coming to screens in 2022

Extinction (Sky)
Described as a "gripping time loop series" and written by Joe Barton (he devised the BBC's crime drama Giri/Haji), the action thriller features Paapa Essiedu (I May Destroy You) as George, who is forced to relive time after witnessing the end of the world. He's co-opted into an organisation of people who share his ability and are trying to prevent a global catastrophe.
Chloe (BBC One)
Written and directed by Alice Seabright, Chloe is a tale of obsession, identity and social media. The thriller turns on Becky (Erin Doherty), who lives on the outskirts of Bristol and cares for her mother who suffers from dementia. As an escape, she becomes obsessed with Chloe (Poppy Gilbert), an Instagram influencer. When Chloe suddenly dies, Becky assumes a new identity to infiltrate her world and find out what happened. Maintaining links to the city, the series has a soundtrack by Bristol-born Will Gregory (Goldfrapp) featuring Alison Goldfrapp and Portishead's Adrian Utley.
Becoming Elizabeth (Starz)
Glossy American/British drama exploring the teenage years of Elizabeth I as she "becomes embroiled in the political and sexual politics of the English court on her journey to secure the crown" when the death of King Henry VIII sets into motion a scramble for power. Written by playwright Anya Reiss, Becoming Elizabeth quirkily stars German actress Alicia von Rittberg as Elizabeth and Romola Garai as Mary.
The Last Bus (Netflix)
Ten-part, live-action children's series set around a sci-fi road trip adventure. A group of mismatched school kids band together to face a fearsome new machine intelligence in a storyline created by Paul Neafcy, who was spotted by Wildseed Studios (PrankMe) after posting films on YouTube from his bedroom.
Featured image: Sophie Cookson as Christine Keeler and Jack Greenlees as Paul Mann in The Trial of Christine Keeler (BBC One), filming in Bristol Corn Street area; image credit Ben Blackall