From her forge on Bristol harbour, Joanna Williams – founder of Fire Iron Art – uses the ancient craft of blacksmithing to bring her original designs to life, creating elegant sculptures and distinctive high quality functional pieces. This month, we stepped inside her workshop to discover more about this brilliant female artist blacksmith…
Tell us about your background and what first sparked your interest in blacksmithing…
I began sculpting in metal during my degree studies at Dartington College of Arts. There was a disused forge in the workshop so I designed a sculpture to be able to utilise it. I didn't know anything about blacksmithing so it was a matter of trial and error. I was fascinated by how malleable the metal became with the application of heat, the material had so many more possibilities and I was excited to discover what it would enable me to create.
How did you come to found Fire Iron Art?
I followed a number of different career paths, all within the creative arts. Suitable opportunities to work with metal were difficult to find so I decided to be proactive and went to the national school of blacksmithing in Hereford. I trained for three years in traditional forging, fabrication and welding, graduating as 'top student' with triple distinctions before moving into my first workshop and setting up Fire Iron Art. Since then, my level of skill has been recognised by the Worshipful Company of Blacksmiths, who awarded me a Certificate of Merit (A.W.C.B). As a woman, I have had to strive harder to be recognised and accepted as being accomplished in what I do. I am proud to be amongst a small number of successful women blacksmiths that are breaking through in a predominantly male profession.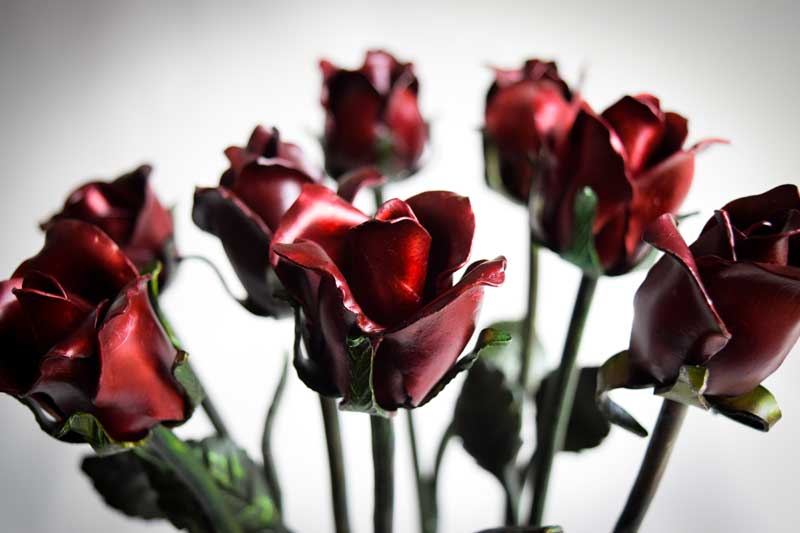 Tell us about the items you make…
My work encompasses an extensive range including contemporary sculpture and decorative functional items for the home and garden, to architectural ironwork and bespoke pieces for clients. I have been creating exquisite floral ironwork since I began forging, establishing a reputation for my high-quality workmanship and elegant interpretations of flowers and foliage.
Garden features are designed to adorn their surroundings. My current collection includes stylised herons and dancing cranes that look striking alongside my hand- forged bulrushes. Textured fronds add architectural height, while individually crafted flower stakes can stand as decorative elements all year round, being re-positioned when needed to serve as a plant support when required.
I work from my own original ideas and designs, hand forging each element which results in truly unique pieces. Even when making limited quantities within the same range, every item still has its own individual charm. Effectively all my items are 'one off'.
Where can customers see and buy your work?
I sell directly from the forge. Customers are welcome to contact me to find out about current available pieces for sale and arrange a visit or drop by the forge if I am open and not busy. I will be exhibiting at the Easter Sculpture Festival at the University of Bristol Botanic Garden between 7 – 10 April and at Venue 23 during North Somerset Arts Week from 28 April – 5 May.
Can you describe your process of designing and making custom metalwork from scratch?
I start by sketching to get my ideas on paper before conducting thorough research. I draw from my influences and knowledge to decide which techniques will achieve the shapes and textures I desire and best convey the message and feel of the piece. Calculation of materials, order of process, tools required or needed to be made and estimation of time to create are just some of the aspects that have to be considered before the design is refined and forging commences.
In the workshop, I begin by making my samples, exploring options to see what will suit best. Over time the piece develops and it is exciting when all the elements finally come together. Refinements are followed by extensive surface finishing.
I often 'free forge' working from a sketch with no measurements or set plan, utilising my skills to create with artistic freedom and no constraints, allowing the sculpture to evolve with each element and grow organically. This unconventional approach gives my work a remarkably different feel.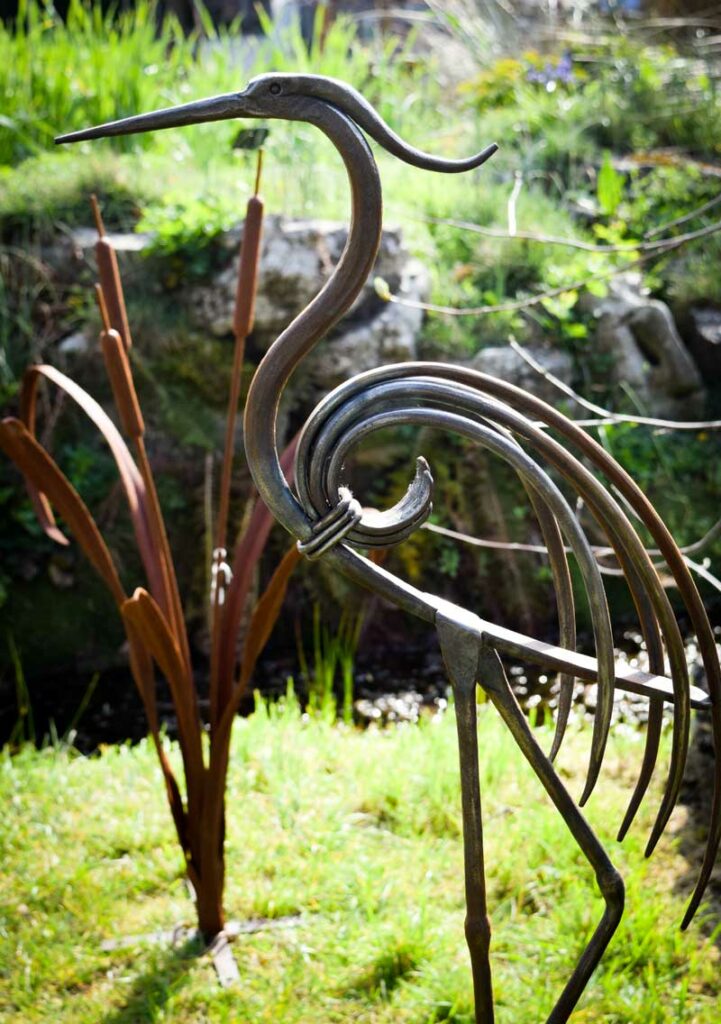 Can you describe your style and influences?
My style is quite eclectic and always evolving. I think being a female blacksmith gives me a unique perspective that influences my designs and reflects in my work. Each piece warrants its own style, some translate best with rich texture and intricate details, while other pieces are minimal, focussing on the technique, clean lines and simplicity of the form. I enjoy the variety as it keeps my work fresh and dynamic.
The most obvious aspect present in all my work is tactility. I am deprived of touching the hot steel during its creation so I aim to incorporate a tactile dimension where the piece can be experienced and explored through the surface textures, flowing lines and changes in dimension.
My hammer is effectively my hand forming the metal so, like a sculptor working in clay, every impression in the material is part of the piece and individual to the artist creating it. Movement is another aspect I like to capture, freezing a moment of action and implying softness and delicacy in the cold, hard, inanimate steel.
Nature is of course a great source of inspiration, full of sinuous lines, fascinating shapes and intricate surfaces. I find the mathematical sequences and complex structures captivating.
I am always looking at new ways of working. Dartington College taught me to push boundaries and blacksmithing gave me the means to do that in metal. Mistakes can often produce amazing shapes and effects that might not have been discovered if following the known methodology. I have been given a remarkable opportunity by Arts Council England to explore my artistic practice and am looking forward to seeing what I will discover and how my work develops.
Do you teach your skills to others?
Yes, I run blacksmith experience days where no previous experience is necessary. Currently, I teach the session on a one-to-one basis. I create a relaxed environment where student safety and enjoyment of the day is my priority while they hand forge a number of pieces, under my guidance, which are theirs to keep and treasure.
How can customers submit their commissions? How do you help people bring their visions to life?
I take on a limited amount of commissions each year. Customers are welcome to get in touch, preferably by email to discuss their bespoke project. I work with my clients to reach a design they are happy with and fits their needs and explain how I can interpret their ideas into metal. On occasion, clients come to the forge, where they can see samples, feel the size and weight of different metal bars. This can help them visualize how a piece might look or highlight things they might not have considered.
For more information about Fire Iron Art, visit: fireironart.com. For enquiries and commissions, email: fireironart@yahoo.com