From Urban Designer in South Africa to Art Café founder, Nicole Strong has created what will be Bristol's first PassivHaus art café for children and adults in Westbury on Trym.

Goldfinch Create and Play will be opening its doors on 4th September. To introduce Goldfinch to the neighbourhood, they will be hosting a Family open day with free creative sessions on Saturday 9th September.

Nicole, originally from Cape Town, spent six years as an Urban Designer and Landscape Architect working for Social Services at the City of Cape Town. Her role was to design community facilities and outdoor play areas in some of Cape Town's most disadvantaged areas.

Designing these play areas Nicole came to understand just how important playing and imagination is, for not only children, but adults too.

Nicole moved to Bristol from South Africa with her husband, originally from Bristol, Mark Finney, an architect, and owner of Seb + Fin and their young family in 2019.


After moving to Bristol, Nicole started looking for creative outlets in Bristol to take her 2 young daughters, Alexandra and Josie to. She quickly realised that there was a lack of creative outlets available for parents to take their children and started to imagine what this place could be. The first step was to start teaching children's craft sessions at her own home. Nicole taught up to 10 children (age 5-9) every Thursday afternoon from September 2021, until just last week, at her home in Sneyd Park but needed a venue to expand the idea.

Nicole found an old high street building with potential at 10 Canford Lane in the heart of Westbury Village and commissioned her architect husband, Mark, to redesign the building with sustainability and creativity at its heart. The venue would be totally re-built to the stringent PassivHaus standard. PassivHaus is synonymous with the best all-season comfort, environmentally green, coupled with the lowest running costs. Clean air and comfortable room temperatures all year round. PassivHaus buildings allow for heating and cooling related energy savings of up to 75 % compared with average new builds.

Goldfinch is a purpose-built café and art space for children and their grown-ups to have the freedom to be inspired by nature, create, and connect – without the confines of the traditional café or classroom. It's a place where imagination can roam free, a space to get creative, have fun, and nurture well-being. The café will host art and craft sessions for children in the day and adult art courses in the evening. It will also serve delicious, healthy snacks and really good coffee.

At the core of Goldfinch Create and Play Café is an inspiring team of creatives, who all have a diverse range of artistic skills, backgrounds, and life experiences, but share a passion for inspiring kids and grownups through art, craft, and nature.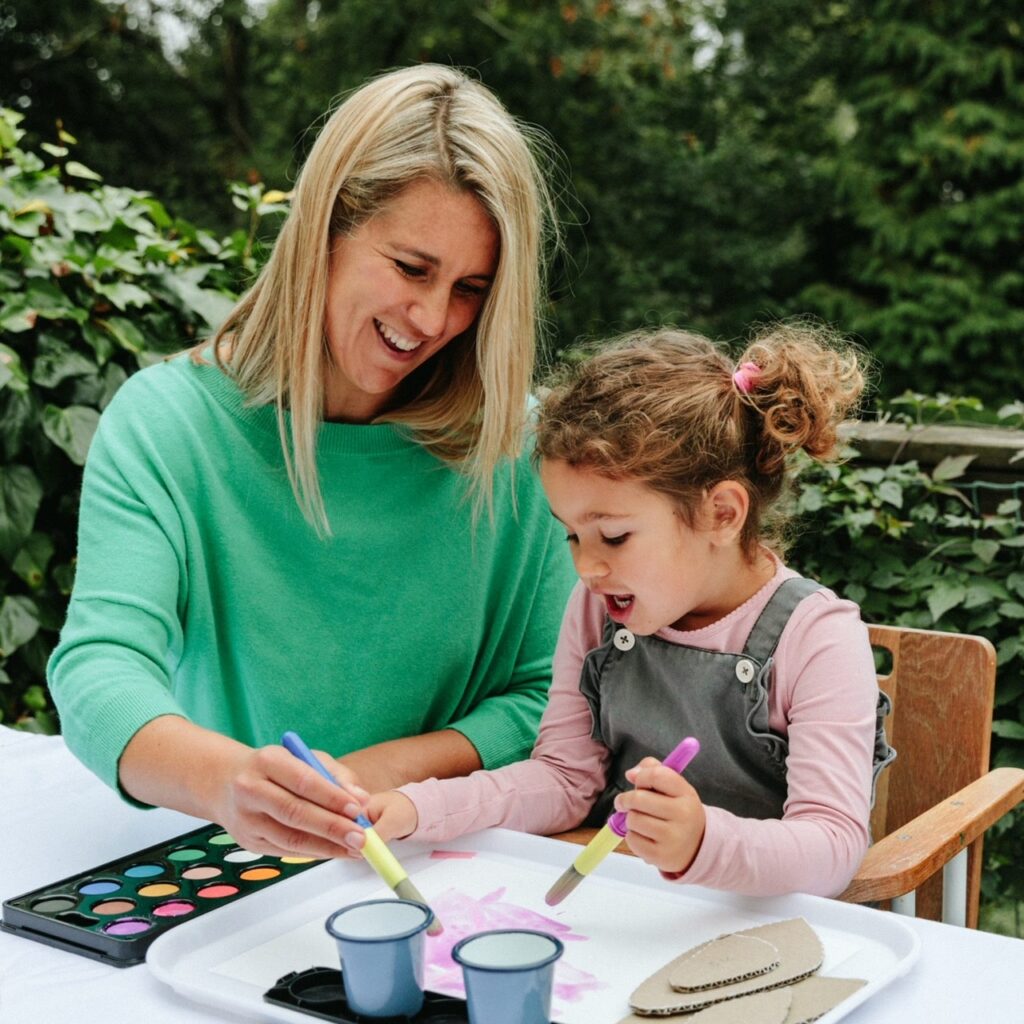 Nicole comments "The Goldfinch journey began with a desire for change—to do something meaningful for others while having the flexibility to nurture my young family. My interest in people and my experience designing play spaces for disadvantaged children in Cape Town were the foundation for an idea for the future: a purpose-built creative space where imaginations are free to flourish.

Not long after we arrived in the UK, I watched a Goldfinch flutter into our garden. That little bird, a symbol of well-being, joy, and the natural environment fuelled my imagination and became the face of the next chapter. I thought what if there was a space in our community that was designed for families to have the freedom to imagine, create and connect, without the confines of the traditional café or classroom?"

Nicole adds "Lockdown gave me time to think and plan the Goldfinch curriculum with my own children. I started to run nature-inspired art classes from my home, and I commissioned our PassivHaus building, I'm so proud to now be able to say that Goldfinch Create and Play has taken flight."

Goldfinch offers art classes for children aged 18 months to 13 years old within a variety of preschool and afterschool, art and yoga sessions, plus a different adult art series every weekday evening. On weekends the venue lends itself as a creative space to host children's birthday parties. All set in an environment built to nurture wellbeing and creativity, whilst also looking after the planet.

Goldfinch Create and Play is set to be a creative and nourishing oasis for the families of Westbury on Trym and surrounding areas in Bristol.
Visit goldfinchcreateandplay.co.uk to find out more and book open day sessions