Based in Abbots Leigh, Wendy Hope has been designing and handmaking original neon art for homes, restaurants, clubs and businesses since 2018, after leaving her role as a headteacher. This month, we sat down with Wendy to talk all about the inspiration behind HopeNeon…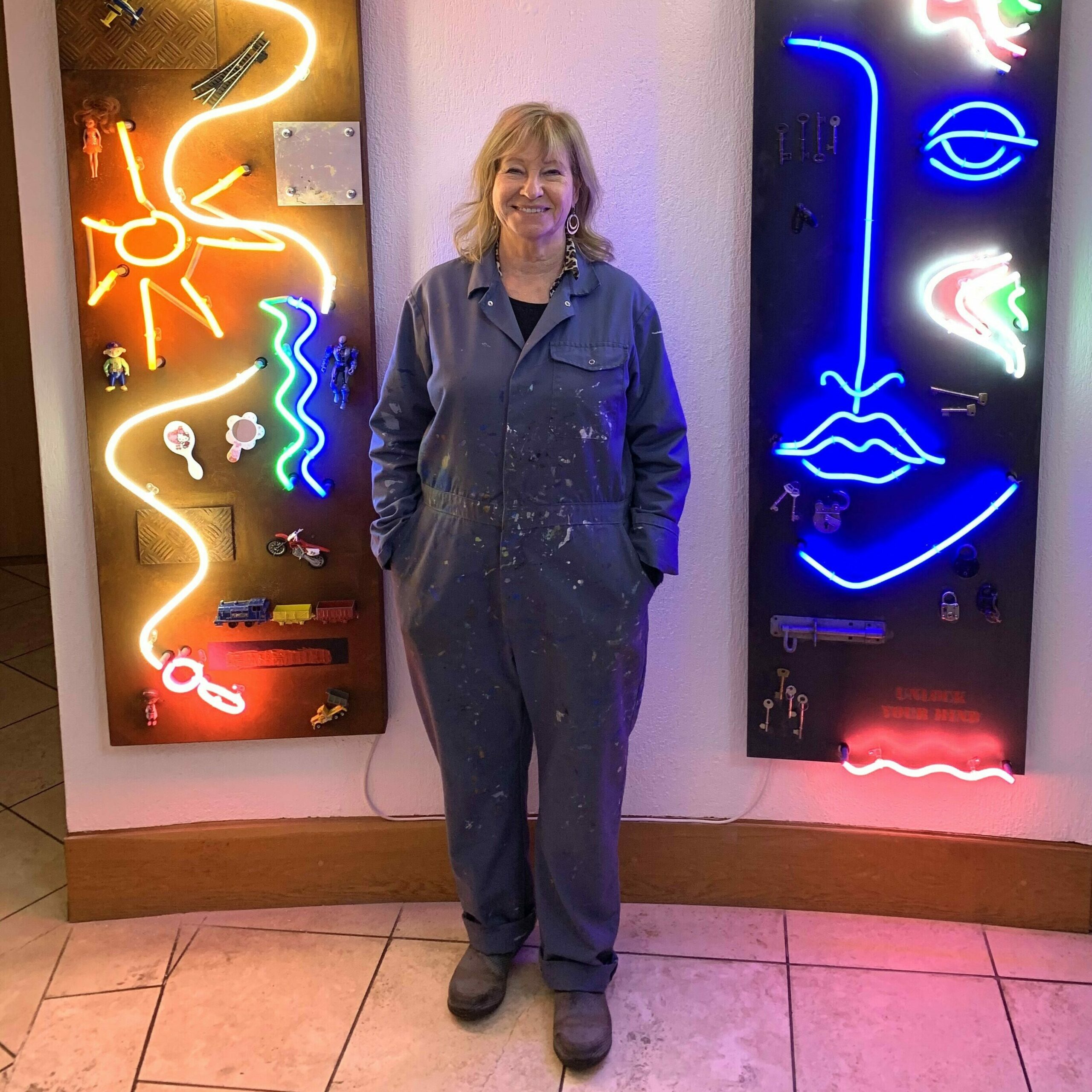 Tell us about your background and what first sparked your interest in creating neon artwork…
My first career was in education, teaching in local schools and eventually becoming a headteacher. I spent happy years working in Eastville and South Bristol and then became a head of a large primary school in Somerset. There, I set up 'Arts Weeks' to bring to Somerset my experience of Bristol's multi-culture and was awarded the Arts Council's Gold Award for ensuring a creative education for all children.
It was a great career but I made a change after many years, to work on projects I had no time for during that busy career – to paint, to write and to explore making art.
I moved house from Montpelier, where I had lived with my family for 35 years, to a very modern house in Abbots Leigh. For some time, I looked at the empty staircase wall, wondering what kind of artwork would look best on it. Finally, I decided I would design something myself to suit the high curving space. This was how HopeNeon was founded. But finding someone to make that first nine-feet-tall neon artwork called Paint Drips, wasn't easy. Most makers were not able to take on the commission of such a large and delicate work… except for Rob Sprackman, director of Cabot Neon Signs. Rob confidently made that first piece from my design and I was encouraged by its success to create more and different pieces and be involved in the making myself. Rob is now Project Coordinator at HopeNeon.
Tell us about the products you make…
My artwork can be inspired by drawings I have made of dancing figures or based on universal themes such as 'The Passing of Time' or 'Remembering Childhood'. I began to experiment with different backgrounds to suit each theme, so the neon can be mounted on reclaimed wood, steel or canvas. I sometimes add objects to these backgrounds – for example, toys from the past to invoke memories of playthings that adults may have forgotten.
I added keys, locks and bolts to a piece titled Unlock Your Mind, which reminds us that we can free ourselves from unconscious bias and embrace new ways of thinking.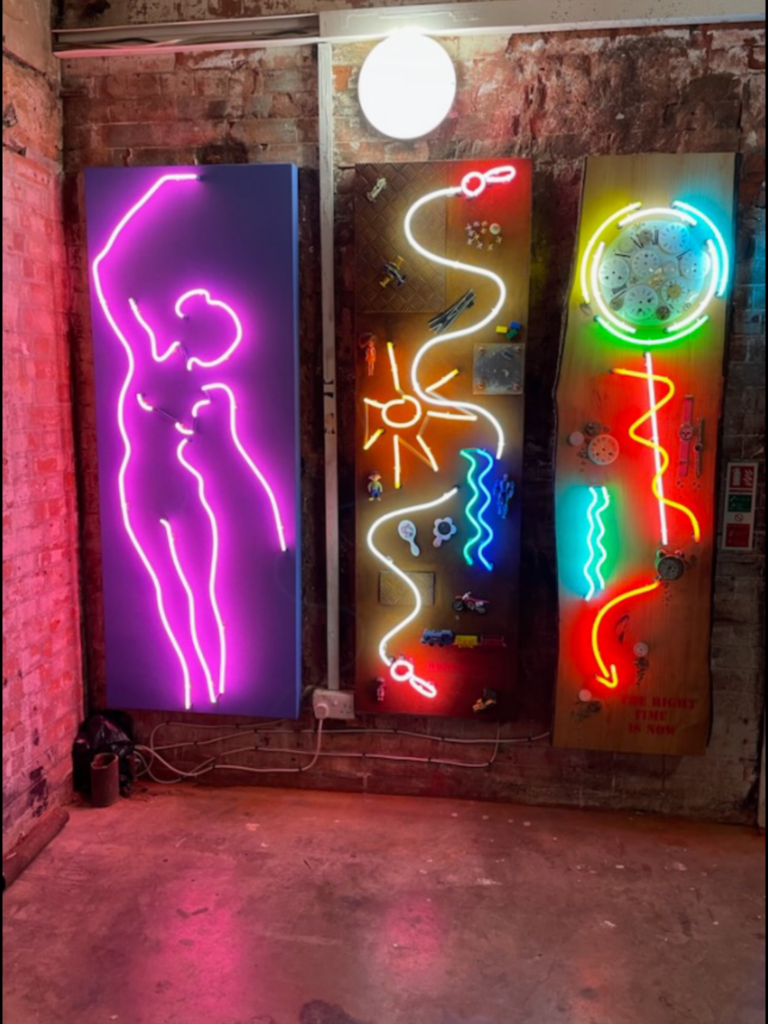 When creating a piece called The Right Time is Now, I added clock parts and dials to a natural wood background, alerting us that there is no time like the present and not to put off difficult decisions.
These artworks are about six-feet tall and two-feet wide, which suit most walls in larger homes or businesses, but when commissioned, I can agree sizes to suit my clients. My artwork called Lalique Girl (pictured above) is rectangular, which looks amazing on a large wall. Colours and backgrounds will always differ from others as each piece is unique. I discuss the commission with my client to give them a personal and original artwork that adds a wow factor to their interior.
Describe the process of designing and making custom neon artwork…
For every piece, I use genuine hand-blown neon glass, sourced from Murano in Italy, which is famous for high-quality glass manufacturing. I don't use inferior LEDs or acrylic.
I sometimes make charcoal sketches of dancing figures and the challenge for me is then to capture the essence of the form, constructing a neon that interprets the graceful lines. With all my designs, I draw my ideas in a vector-based art programme and then print the design to scale. The full-size drawing is then transferred to heat-proof cloth.
The glass tubing, imported from Murano, is shaped over a hot flame to match the design. A vacuum pump is then attached to the tubes to extract all the oxygen before filling them with neon or argon gas, depending on the colour. Choosing and sourcing the background is next and finally the exciting assembly of objects. I discuss this with my client so that their preferences for colours and background material is taken into account, as well as objects they may wish to incorporate.
The artwork is delivered and installed free of charge by our expert technician. The neon does not get hot, uses very little power and is safe. It only requires a three-pin socket.
Tell us about your style and influences and where you find inspiration for your work…
Inspiration comes from many sources but I particularly love the Art Deco period, which lends itself to curves and simple lines. Lalique Girl is an homage to Rene' Lalique, the master glassmaker and jeweller. The piece is an interpretation of his famous car mascot called Victoire, which adorned the bonnets of the finest luxury motorcars in 1928. I have given her a modern face and she shimmers in blue neon against a silver background.
I love the juxtaposition of old and new, old wood or rusty metal against modern neon glass and beautiful, clear colours. Different themes work for different situations, for example an office foyer might want something that differs from a piece of art in a home.
All is possible.
What have been some of your most favourite creations to date?
I loved creating the piece I call Remember…? Bygone toys were added to a rusty metal background, implying they were lost or discarded. The modern neon technology, which contrasted the toys, was shaped into a neon sun – representing one of the first symbols that children draw. A neon skipping rope was then threaded through the artwork, linking all the objects together.
Did you once have a favourite toy? Jacks? Lego? Star Wars figures? I can source it and add it to your artwork to personalise your piece.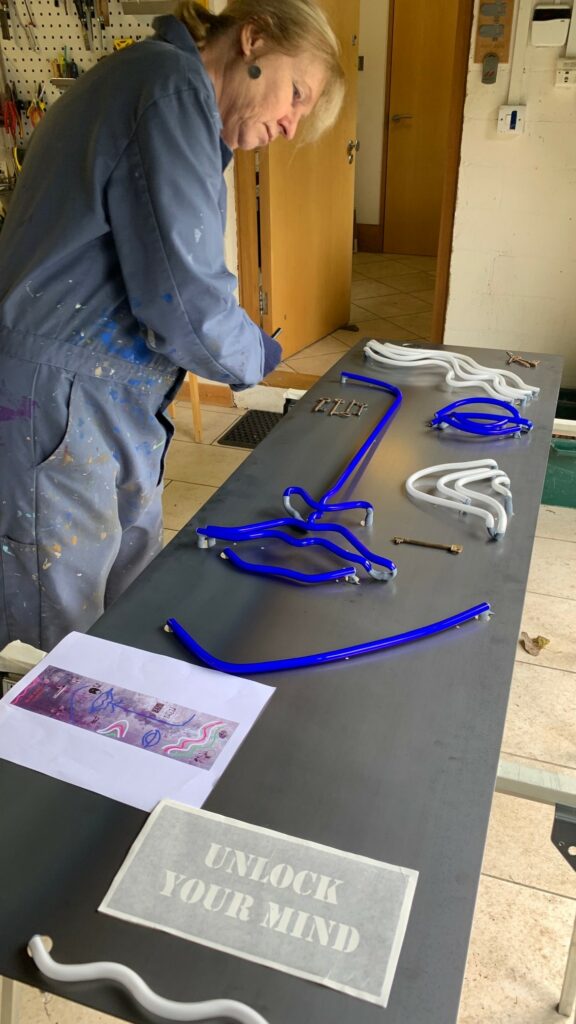 Where can customers see and buy your work?
My customers may have seen my work at the Cluster Art Fair when exhibited at the Oxo Tower Wharf on the South Bank. Or, they can visit my website, my Instagram page or email me for a brochure.
Why did you decide to set up in Bristol? What makes the city so special in your opinion?
Bristol is my city and I have lived here for 50 years. Everything is possible in Bristol and I need go nowhere else to set up a business. Many creative people have started in Bristol – I remember early Banksy stencils all over Montpelier from 25 years ago. Successful musicians such as Massive Attack and Roni Size come from Bristol as well as great architects, writers, teachers and community workers.
As far back as the 1970s, restaurants such as Keith Floyds and Bell's Diner were the forerunners of today's many Bristol restaurants. We have stunning buildings in Bristol, too, from the grand Georgian terraces of Clifton and Hotwells to Victorian villas and terraced cottages all over the city. Politically, Bristol is left-wing and green, which matters to me.
How can customers submit their commissions? How do you help people bring their visions to life?
Initial enquiries can be by email (enquiries@hopeneon.com) and I can respond to questions, send a beautiful brochure and price list, and invite potential customers to view my work in situ in Abbots Leigh. Then, we can discuss their wishes and make a HopeNeon artwork specially for them, to suit their home or business. Clients can suggest colours and materials or I can design and make what they didn't know they wanted.
• hopeneon.com