As the work of Bristol-based mural painter, illustrator and lettering artist Zoë Power continues to pop up across the West Country – most recently in Bath – we get to know the artist behind the distinctive designs…
Tell us about your career so far, what attracted you to Bristol and what makes the city so special in your opinion…
It's been quite a windy and bumpy ride to get to where I am today.
I started off my creative career wanting to be a sign writer, hand painting letters and signs. It's a really accessible and applied craft, and was an amazing starting point for me to make some money, refine my skills and build confidence. With time, my painting just got bigger and bigger as clients would often want to add a small painted mural in their office/building/restaurant. Gradually my portfolio grew to the point that I started to get approached to paint murals.
Bristol is a great place to be an artist as there is such a supportive network of fellow creatives here. People are up for taking chances with bright colours and abstract designs – it's not always the case that people are so trustworthy with their walls. The art and music is what makes the city. Bristol has a lot of soul, filled with passionate people trying to make the world a better place, which is what makes it so special.

Tell us about your most recent project in Bath city centre and the pieces you created for Milsom Quarter and Kingsmead Square…
The aim of the 'Love Our High Streets' programme is to increase footfall, revitalise and bring a sense of identity to the high street with bold and joyous artwork. The brief was totally up my (high) street! Milsom Street is a fashion, design and shopping destination,
so the artwork there focuses on that and features sassy fashionistas and dancing carnival-goers. Kingsmead Square is such a summery hotspot for eating and drinking as well as watching street performers, which provided plenty of inspirational material to work with. I want my artwork to feel energetic and fun, so my characters are often jumping, dancing and posing. We can all get bogged down with our worries, jobs, to-do-lists – if I can inject a bit of silliness and play into someone's day, then that's a win.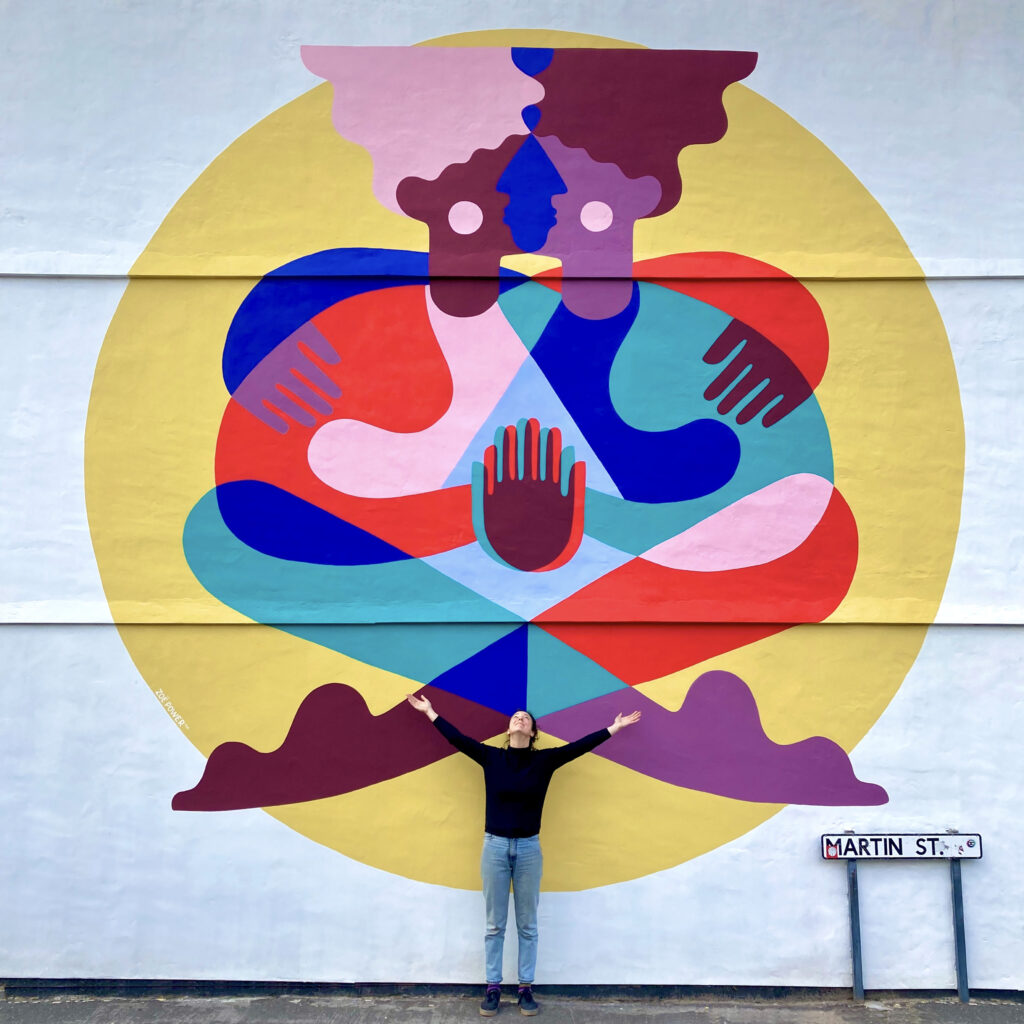 Where can people enjoy your work in and around Bristol?
I've got two permanent pieces in Southville – one above Zara's Chocolates on North Street and one opposite on Martin Street.
I painted a huge pillar under the railway track on Stapleton Road, Easton. You can also see one of my first murals at Portishead lido.

Your work aims to be joyous and body positive. How did this style evolve?
I feel like my style is constantly evolving as I gather more and more inspiration. My work has gradually gotten bigger over time, which is amazing as I never dreamt I'd paint on such a huge scale. I want my art to be accessible and for people to connect to my artwork, to feel empowered and uplifted when they see it. After all, if we all felt better about ourselves, we'd probably act better towards each other and our environment. Making work in public is such a powerful platform and I want to make the most of that, to re-write the narrative and beauty standards we often see slapped across billboards and TV screens. Power to the people!

How do you create and produce your artwork?
I always start off in my sketchbook as I find it the best way to get ideas down, squiggle and explore. I then move these sketches onto my iPad and work them digitally, which a great medium for designing as I can work to scale, easily make edits and see how the design will look in situ. Most of my murals are a combination of emulsion and spray paint. I like to make my screen prints totally analogue, giving them a hand made feel.


You have been involved in community arts projects across the UK. What is the appeal for you of producing work for public spaces?
I love people! I really get a kick out of talking to people, hearing their stories and bringing art to the masses. It's so satisfying to transform a space from a run-down, unloved wall to become a free, public piece of art. It really does change how people feel about where they live and work, can bring communities together and encourage a local sense of pride and belonging. I enjoy sitting down designing (particularly when it's freezing outside!), but getting out, meeting people and painting really makes my heart sing.

What sort of other illustration work/commissions do you do?
I particularly enjoy working with socially and environmentally conscious brands and businesses. My work can be adapted to anything from t-shirt designs, beer can labels, murals, window displays… the possibilities are endless. I'm currently exploring working in 3D and wood at the moment, and am really keen to collaborate with architects and fabricators on urban interventions and sculpture.

Can you tell us about any Bristol-based projects that you're currently working on, or any projects that we can look forward to over the new few months?
I painted a sculpture as part of UnicornFest, which is outside the RWA until the 3 September. And I just finished painting a doorway for WEA, an educational charity based in St. Paul's. Otherwise, mural painting has had to take a back seat for now as I look after my little baby. I'm also getting married next month, so I am focusing on that at the moment. I'm planning some new prints (check my instagram to stay tuned), which will be released in the Autumn.
• See more of Zoë Power's work at: zoepower.com; @zoepowpower