Anna Mazzotta is a British artist with Italian roots, she studied at Londons Royal College of Art and lives and works in Bristol and London. Her colourful, quirky, often risqué and humourous paintings take us to a world of long lost glamour and showcase an impressive variety of human emotions. Her highly collectable work, the characters and narrative she creates deliver unique and compelling pieces that will often reveal something new at each viewing.

What's your connection to Bristol and what makes the city so special in your opinion?

Bristol is eclectic, I find it a special place to live, it's the ideal place for artists. I love the bohemian side of Bristol, we are surrounded by art and music. It's not just a nice place to live it's a cool place to live, without any pretence.

Tell us more about your latest exhibition at Studio 74 Gallery, opening in October?

I was happy to be asked to do a solo show at this special Art Gallery by Ellena Norman, who has made such an inspiring space for art and artists. My exhibition will focus on 3 main areas: The People of Bristol, Movies throughout the decades and a tribute to Vivienne Westwood. 'Bristol' will focus on the People of Bristol, the people that have made Bristol a fabulous place to live, the dock workers, blue glass makers, graffiti artists, musicians, the workers of Bristol.

Film has always been my passion my work generally recreate scenes in an almost cinematographic fashion – I'll be showing a few pieces on the subject of film, movies from different decades. IMDB, founded in Bristol shall also play a part in this series.
Vivienne Westwood; anti establishment, a punk originator, counter-cultural figurehead. I honour her in this exhibition as she was one of the original anarchists from the punk movement. It's an honour celebrating Westwood here in Bristol, Rebel City – 'Against All Authority, because this graffiti never goes out of fashion.'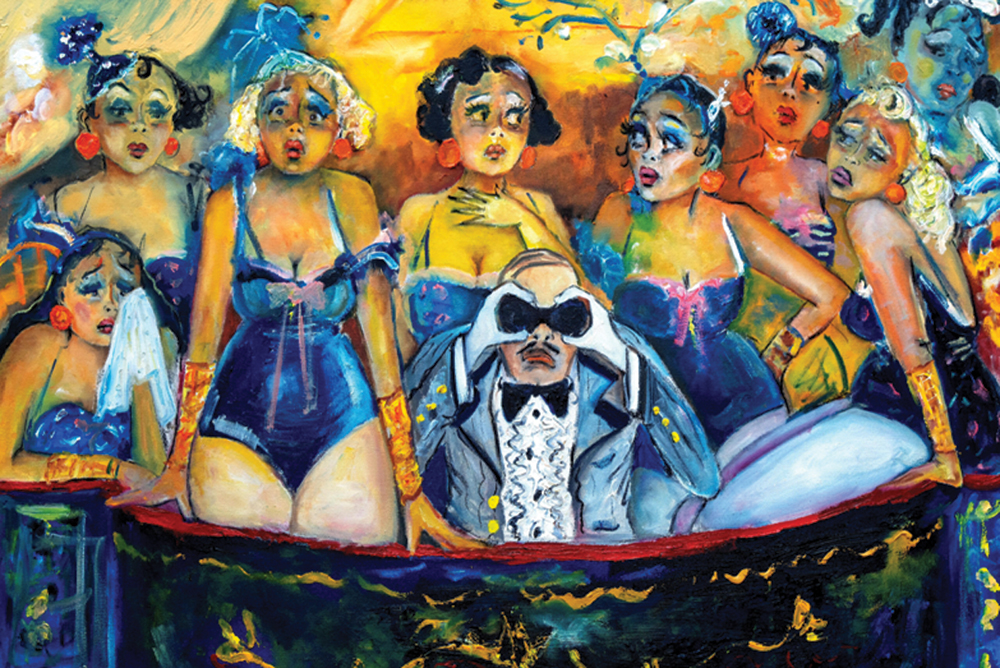 You studied Fine Art at Wimbledon College of Arts before earning your Masters at the Royal College of Art under the tutelage of Paula Rego, John Bellany and Ken Kiff. How has the experience of learning under some of the masters in the field influenced your work?

It was an honour to be tutored by these 3 great artists. All purists, artists that draw on imagination and drawing skills, no instant gratification or obvious generic imagery. John Bellany with his vigorous expressionist style, what I love about his portraits in particular is the fact that they are not photorealistic, the essence is there, not perfection, there is nothing mechanical or photographic about his works, this quote from Oscar Wilde The Picture of Dorian Gray sums it up for me; "every portrait that is painted with feeling is a portrait of the artist, not of the sitter. The sitter is merely the accident, the occasion. It is not he who is revealed by the painter; it is rather the painter who, on the coloured canvas, reveals himself."

Again Paula Rego with her monumental figures all telling a story there's a narrative a piece of mystery the viewer unravels at their leisure. Ken Kiff was a hugely talented artist so painterly up close, his works magical and exquisite channelling a childlike quality in a sophisticated way. All 3 artists greatly influenced me, their art was free of gimmicks and displayed pure talent with imagination and great draughtsmanship.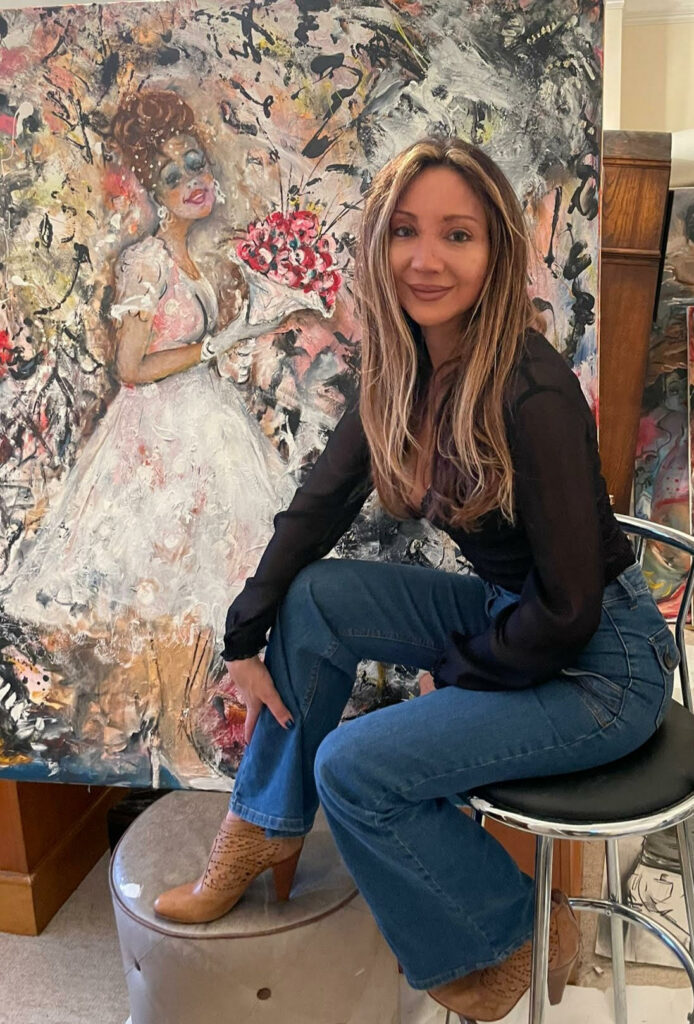 You are best known for your paintings and charcoal drawings based on observations of life underpinned by humour – how would you describe your style and how has it evolved over the years?

I would describe my style as pure, humourist and an observer of life – the opposite of generic. My works are genuine, unique, unconventional. I don't spoon feed the viewer with generic or obvious imagery, or insult intelligence which also makes my work risquè in a sense that I don't follow trends for instant gratification. The upside to that is no buyers remorse. I've had some clients contact me after 15-20 years to tell me that their painting holds a special place in their hearts and that their children grew up with my art hanging on their walls. For an artist that is the ultimate satisfaction… if my clients are happy that means I'm happy. I find preliminary sketches fascinating. You can see how the mind of the artist works throughout the artistic process, there's a sophistication that comes with that. My work has become bolder over the years.

Who are your biggest influences and where do you go to find inspiration?

I have a great love for the German artists who worked during the Weimar era… Georg Grosz, Jeanne Mammon, Karl Hubbuch are just a few. Their works leaned towards caricature as it's probably the best way to document the human condition. I find my inspiration in coffee shops I like to sit by the window and look at passers by. This is what inspires me – for many artists throughout history apart from Absinthe, the cafe served as a haven especially for those artists whose ideas were not welcome in the formal, established art community.

What is your own creative process from concept to completion?

I start with a vague sketch then a story unfolds from the marks on the canvas like I'm telling myself a story. It's pure incidental, all about feeling. I love this quote by LS Lowry…"You don't need brains to be a painter, just feelings." Art is all about feeling.
All my works are free hand there's no place for digital or tracing elements in my studio, hence my work can never be called mechanical, clinical or sterile.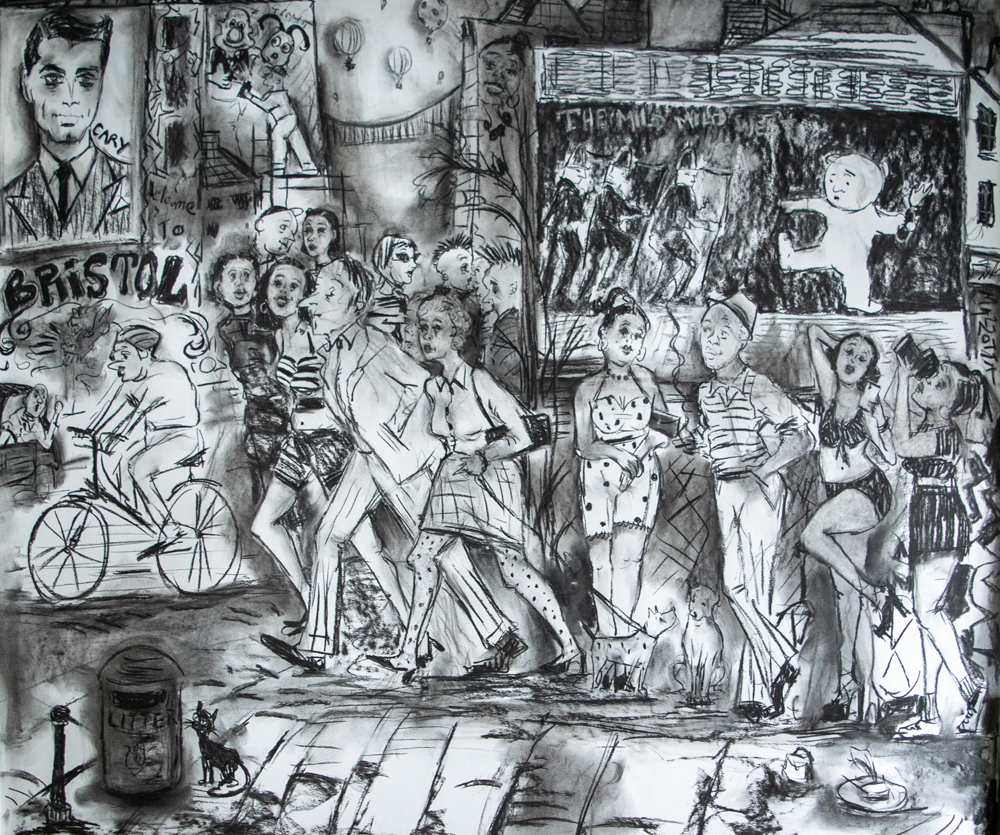 Can you tell us more about your recently commissioned new collection for Vivienne Westwood?

I was asked to exhibit at Tramp London recently, shortly after Vivienne Westwoods death. I decided to dedicate a collection to Westwood and Punk, some of my paintings are hanging in the Clock House at World's End, Kings Road, Chelsea so there is also that connection.

And what about your previous commissions for Fat Boy Slim and Jane Fonda?

I was commissioned to paint Jane Fonda and was very happy to present her with her painting on stage at the London Savoy where she had just been interviewed by Graham Norton.
It was an amazing experience to visit Norman Cook (aka Fatboy Slim) in Brighton and see my painting hanging in his home. A print of the original piece was made that he kindly signed and this was auctioned for charity.

What's next in the pipeline for you? Are you currently working on any projects/commissions that you're able to tell us about?

I'm currently working on a commission for a diamond jewellers for their new signature store in Hatton Garden, a series of 8 large charcoals all focusing on jewellery. One is based around Leap Year where several women holding out engagement rings are swooning and fawning over this one gentleman. Risqué in these highly sensitive times but I believe that if an artist is worried about offending people and constantly thinking of that, then that artist can never be truly creative.

Anna Mazzotta's work will be on display from 19 October at: Studio 74 Gallery, 74 Whiteladies Rd, Bristol BS8 2QA. The show will be opened by former leader of the Welsh Liberal Democrats Lembit Öpik with celebrity guests Richard and Fred Fairbrass (Right Said Fred) who will sign a special charity auction piece at the show.
studio74gallery.com