As Aqua Grand Café swings open its doors, we visit the quality new addition to Whiteladies Road…
It was the two-month anniversary at Aqua Grand Café when we dropped by to eat. Whiteladies Road's stylish new eatery has been inspired by the grand cafés of Europe. As we pulled up outside on a dark Wednesday evening, making a dash for the door while the rain lashed down from above, it was a delight to be welcomed into the sumptuous surroundings of AGC. The interiors, the two-story-tall ceilings and large cocktail bar were impressive and the menu was equally attractive, with France's signature style very much in evidence.
Aqua Restaurants have been an independent family-run business since proprietor Richard Smithson opened the first Aqua restaurant on Welsh Back in 1998 and then in Portishead more recently. Both restaurants have gained a reputation in the city for serving high-quality food in elegant settings. Richard's son, Ben Smithson, is now at the helm of this latest venture and is dedicated to delivering a "magical, memorable experience".
Having worked as a head waiter at the Savoy Grill in London, alongside multi-Michelin starred chefs Gordon Ramsay, Marcus Wareing and Lee Bennett, Ben has developed a passion for French classical dishes and luxurious all-day dining. It's clear to see that after working at one of the world's most iconic hotels, Ben's impeccable attention to detail has seeped into the very fabric of the new Bristol restaurant. Elements of the Savoy Grill have also crept into the day-time menus, with an Omelette Arnold Bennett making an appearance at breakfast and lunch. The dish – a rich combination of smoked haddock, hollandaise sauce and cheese cooked in a pan and finished under the grill – was named after the author who ordered the omelette during his stay in the 1920s. It has since become a classic creation.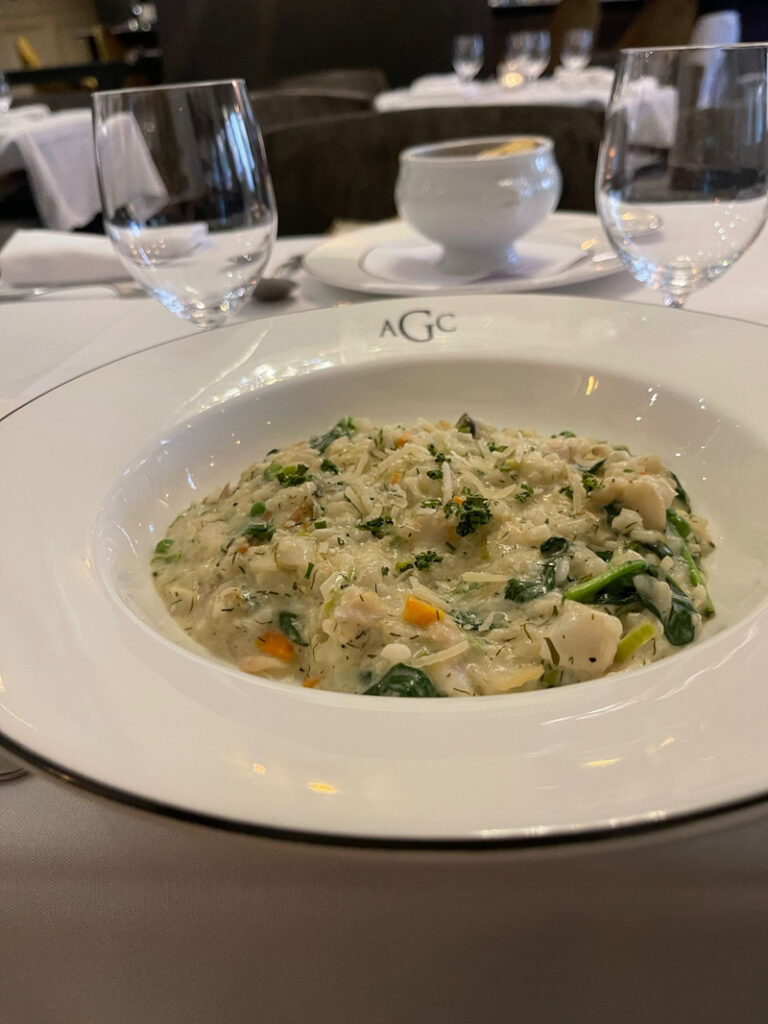 Eager to get stuck into the menu, we started with the chicken liver parfait with red onion jam and toasted brioche along with the soupe à l'oignon – an exquisite rendition of the classic dish. The menu is a collection of plates that you could happily eat on any day of the week – and quite possibly at any time. So, with that said, we centred ourselves for what was to come.
For the second course, our attention was drawn to the smoked haddock risotto with mascarpone, peas, leeks and parmesan and the coq au vin with pomme purée: a glorious riot of flavours. The main dishes justify their £18-plus price tags by both execution and volume. Very much on the plus side, there was also a broad wine list alongside a comprehensive selection of cocktails – all made by the bar's mixologist.
To finish, we couldn't go wrong with a beautiful piece of pastrywork in the shape of a salted caramel éclair. We coupled it with the banana split – caramalised banana, vanilla ice cream, chantilly cream and raspberry purée – which felt like quite possibly the most indulgent combo one could tuck into.
All of the desserts are handmade by a team of patissiers headed by Ben Rodd, whose talent seems to know no bounds as he expertly crafts chocolate truffles, French macarons, Madeleines and delicious apple tartes tatin every week.
Aqua Grand Café brims with a sense of independence. Evolving throughout the day, from a bustling breakfast and brunch service to a leisurely lunch and afternoon tea to atmospheric dining until late, the French-inspired plates are the sort of thing that will bring you back time and time again.
Although only two-months old, Aqua Grand Café is set to become a gastronomic go-to in Bristol's latest must-visit locale – a classy establishment deserving of its prime location.
aquagrandcafe.com; 153 Whiteladies Road, Redland, BS8 2RF