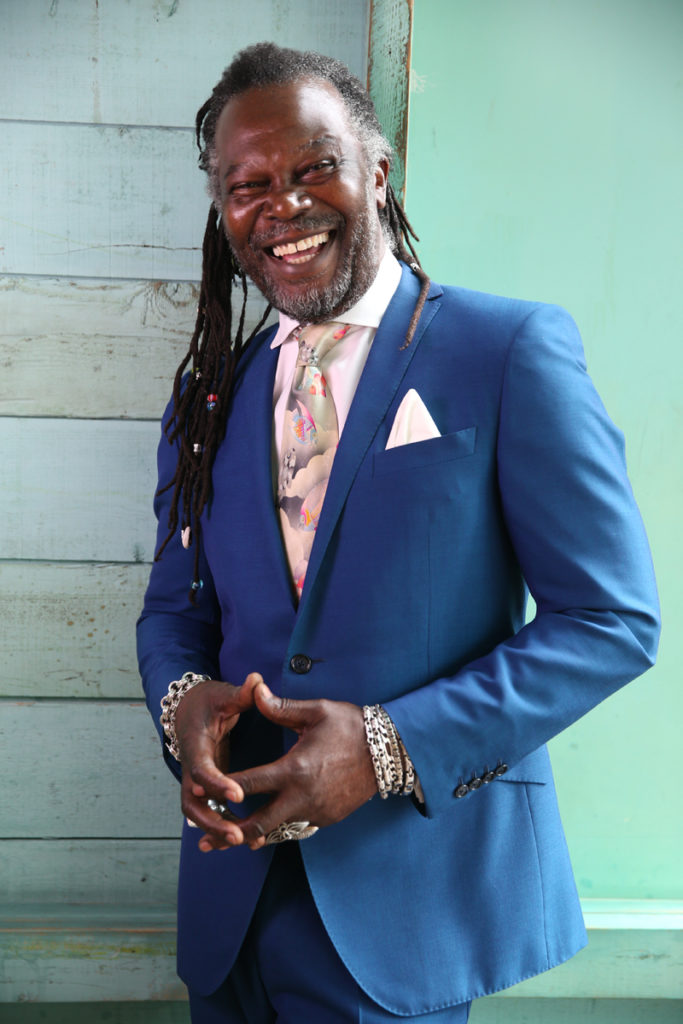 There's a movement that one musician, entrepreneur and food writer – that one who made it big on Dragons' Den – cares deeply about. It's called Carnival. Next month Levi Roots will begin a new role as chair of the board for this community calendar highlight, and he can't wait
Levi Roots remembers well his trips to Bristol during the 1970s – playing in St Paul's as part of the Sir Coxsone Outernational Sound System. It would be close to four decades later that he'd become a household name once he'd appeared on the BBC to pitch his Reggae Reggae sauce to the Dragons, but many in Bristol already knew him well. He had already been selling at food fairs for 16 years – as well as from shops in Stapleton Road, stalls in St Nicholas Market and Clifton – and not long after his sauce launched, he was invited to return to St Paul's Carnival to gig live with his band.
Having been a regular in the city for so long, and given his passion for fusing music and food via carnival culture, along with his experience as a businessman, Levi was a clear choice for the Carnival board. In September he takes over from interim chair Carole Johnson and he's really looking forward to it – he told us so.
TBM: What ambitions do you have for Carnival in your new role?
Levi: My aim is to make St Paul's Carnival one of the most popular cultural street festivals in the world – one that is able to attract global sponsorships and support and to appeal and reach out to local businesses and other potential partners worldwide.
Why is it so important for Carnival to continue, in real or virtual form?
Carnival represents the heart and soul of the people of St Paul's; it's their way of expressing who they are, to remind the world and themselves of their Caribbean roots, their cuisine and culture. Carnival is the soul of the city: music, laughter, food and party vibe. It's when the city shouts the loudest, when our voice is heard. That message of "one love, let's get together and feel alright" is what the celebration is all about, calling to people of all races, faiths, colours, political affiliations, who live here in this amazing city, with that eternal message of love and respect.
Tell us a little more about your Bristol memories from the '70s…
In the 1970s, sound system culture was massive in the UK and St Paul's was a favourite place for the big sounds from London to go and play. The people were friendly, loved reggae music and had a few really good local sounds who would challenge the Londoners in musical clashes. I was a part of one of London's top sounds; I made my first visit in 1975 and continued every month for about four decades.
What have you noticed about how Bristol has changed since then?
Bristol is a place that is expressing herself to the world now. There is no holding back from this amazing city – one that has so much to offer, to say and show to the rest of world – and St Paul's Carnival is the heartbeat and rhythm of the community.
How do you feel about Bristolians who supported you in the early days?
I will always feel a sense of gratitude to all the local shops and stores in St Paul's who supported my Reggae Reggae sauce by stocking and distributing it, especially in those early years before my appearance on Dragons' Den. It was precisely because of this backing by the stores and by their customers which allowed me to continue with the business in the most difficult times.
What did you spend your time doing during the lockdown?
y family and I used lockdown time to get fit, exercise more and eat healthily, doing it all indoors. I actually feel better now and less heavy than I have been in a very long time.
What have you been cooking recently?
Eating organically and healthily has become a passion. So the inside of our food cupboard and fridge looks a lot different than it did a few years ago.
Which Bristol music acts are you enjoying?
At the moment I am listening to and bigging up a new artist from Bristol called Zed Regal, who has a debut CD entitled Suh Mi Grow. He approached me with a copy a couple of weeks ago; I played it on my radio show on Colourful.com and it sounded brilliant. I really liked his approach to me on the day and the CD's production was spot on. I think we will be hearing a lot more from him.
What would you say to those starting out in business?
Covid-19 has changed the way people look at businesses, especially start-ups. Being able to adapt to changes has become a norm for all aspiring entrepreneurs. The ability to be resilient is a must; to be able to survive the storm until the calm. My advice is to be prepared for every foreseeable eventuality. That way, even if you don't know what is going to happen, you will be ready to seize the opportunity if it's there.
What have been your most memorable moments since Dragons' Den?
The birth of my son Christopher (now eight) has, by far, been the most amazing moment of my life since the Den; I thought I was done having children but apparently not. Also taking part in a bucket-list sky-dive in Dubai a few years ago – that was pretty cool.
What's next for you, other than driving St Paul's Carnival forward?
Working on a cinematic movie about my life. We go into production in the new year. The film will highlight my life in Jamaica as a child and then coming to the UK, and cover the sauce and my Dragons' Den pitch through to Sainsburys, Tesco, etc, etc.